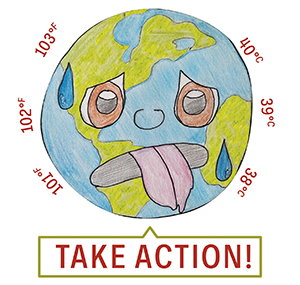 This past summer, cacti fell and withered, people suffered third-degree burns from sidewalk cement and people died. Phoenix, Arizona, residents endured 31 straight days of 110 degrees Fahrenheit. The people of Bandar Mahshahr, Iran, suffered a heat index of 165 degrees Fahrenheit, leaving no doubt that the rising heat is the leading cause of weather-related deaths.
Climate change isn't a recent phenomenon, we can trace environmental concerns to the creation of the Environmental Protection Agency (EPA) in 1970, pushed by then-president Richard Nixon. The Vietnam war was over, the Cuyahoga River in Cleveland was on fire and St. Louis smelled "like an old-fashioned drugstore on fire." Nixon said at the time, "It is literally now or never. A major goal for the next ten years for this country must be to restore the cleanliness of the air, the water, the broader problem of population congestion, transport and the like."
Following the establishment of the EPA, the National Environmental Policy Act (NEPA) and the Clean Air Act were both signed. The Clean Air Act set standards and limited the release of toxic air pollutants. The act is now partially gone, with other programs that stemmed from it. Let's look at the cause of the most recent heatwave the role of various programs, and whether those programs have had a response.
Heatwaves happen when jet streams, powerful wind blasts, move slowly through the atmosphere, causing lingering air pockets. Research has shown that heatwaves have begun and will continue to be a common event and El Nino, the natural weather cycle that warms up the planet every few years, will only become more intense.
Division worsens our reactions
The general consensus is that most damage comes from human-caused climate change. It certainly appears that humans enjoy releasing greenhouse gases into the atmosphere to any outside spectator. Still, many are unaware of its harm or find it the least of life's problems.
The world depends on fossil fuels, an affordable and accessible hub for capitalistic gain. President Joe Biden recently lowered the price of renewable energy instead of increasing fossil fuel prices, acknowledging that American infrastructure is well-developed for the use of fossil fuels. But by lowering the prices of renewable energy, the Biden administration is anticipating a market shift that will favor those sources.
It's worth mentioning the fact that 49% of US adults say Biden's administration is taking the country in the right direction, while 47% say quite the opposite, regarding environmental changes and protections.
Unsurprisingly, the "disagree" side is heavily weighted by Republican leaning people, about 82% according to Pew, who typically support systems that contribute heavily to climate change and global warming such as more offshore drilling, coal mining and oil fracking, systems pursued by individuals carrying a capitalistic outlook.
The jury is still out on whether Biden is doing a sufficient job, however, his administration followed a particularly ignorant and foolish reponse. The Trump administration ruthlessly attacked and weakened program limitations to combat climate change, causing two-thirds of the population to profess a lack of iniative by the government.
Administration's climate response
The Biden administration has:
• Invested $369 billion through last year's Inflation Reduction Act to combat carbon emissions (goal is to reach a 40% reduction by 2030).
• Lowering renewable energy prices rather than raising fossil fuel costs.
• Changes to land usages, such as strategies to protect forests as well as investing in environmentally-friendly agriculture resources for farmers.
• Strengthening of health / environmental protections, such as cleaning toxins and reducing methane emissions in power-plants.
During a press conference on July 27, Biden issued a formal statement – a lengthy and jumbled one – mixing in concerns and general shock about the unprecedented heatwave: "We should be protecting workers from hazardous conditions, and we will." He and acting Labor Secretary Julie Su issued a Heat Hazard Alert that gives workers "federal heat-related protection."
But, the Biden administration has not done their best in mitigating climate destruction and pushing for important policies:
• Approved ConocoPhillips's Willow Project earlier this year in March, regardless of "substantial concerns" of the devastation of biological areas from Biden while passing the Arctic National Wildlife Refuge policy.
• Has not stopped taxpayer money from going to fossil fuel life-lines. Instead they should be redirected and invested in clean energy sources.
• Failing to allow communities whose health has been impacted greatly to have a say in particular projects or policies, an immense problem that does not get enough attention.
• There are more strict regulations in place for most emissions, soot and smog pollution are not of them.
Only time will tell if our current governmental response adequatedly serves the climate's needs. While we have implemented great programs such as the Inflation Reduction Act that promotes clean energy, these aren't redeeming qualities in the hypocritical response of Biden's administration, especially since he campaigned on a strong stance on protecting the fragility of the current global climate.
In terms of success, we have made strides in comparison to the previous administration, a fact we should applaud. And we must burden one person with the earth's future, because this needs to be a collective effort, not on the individual level, but rather as a governmental response.
Story continues below advertisement