Mixed thoughts on the holiday season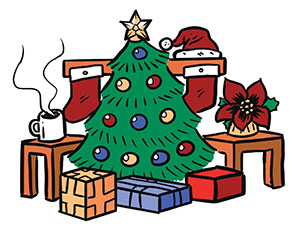 Here are my opinions on the upcoming Christmas season:
Music
I have a soft spot for Christmas music. When I was little, my sister and I would take time off from school to help our mom bake treats for Christmas Eve. From early in the morning until the sun had set for many hours we listened to hours of Christmas music. I'm certain I've heard every single piece of holiday music out there, from the classics to alternative rock covers. My coworkers have gotten annoyed that we're already playing Christmas tunes where I work, but I secretly love it. It brings back fond memories from when I was little.
Trees
This might be an unpopular opinion, but I prefer a plastic Christmas tree. Growing up, my family had so many ornaments that a real tree literally would not support them all. The branches would bow and break. I can only remember cutting down a holiday tree once in my life, and ever since then it's been plastic all the way. I think it's the better option. There are so many trees cut down during winter for one holiday, which are quickly thrown out and wasted. They make a mess in your house, and they require constant upkeep. Plastic trees are easier to set up and can be used for years and years.
Presents
Presents are arguably the biggest part of Christmas. Getting them is so stressful, though! I have a big family, with four siblings and ten nieces and nephews. That's a lot of presents. My siblings are so hard to buy presents for. They say they don't want or need anything, but I can't show up empty-handed when I know they'll get me something.
Without a clue of what they need, I'm sent on an endless search for the right present for them. I don't buy kids Christmas presents, though. I know it sounds rude, but they get enough presents from other people. I'd rather spend money on them at a different point in the year, on something they'll really like and remember. My older sisters appreciate this, as it's one less unloved toy clogging up their houses.
Lights
I love when people decorate their houses with lights. The more the better, I say. When people sync up their light show to a radio station, that's gotta be about the coolest thing in the world. Who thinks of that? It's so fun to walk or drive around town and look at all the lights, and rate people's decorations with friends.
Food
I'm just going to say it. Turkey for Christmas is not good. WE just got rid of turkey from Thanksgiving! It's too soon to bring it back already! Not to mention, most people just don't know how to cook a turkey. It's never flavorful enough and always too dry. My family has never done turkey on Christmas Day. It's been a tradition for as long as I've been alive that we cook Chinese food together instead. I have memories of being around six years old, sealing up wonton wrappers to make crab rangoons. We all pitch in with different foods, and sit down for lunch after all the kids have opened their presents. The food is one of my favorite parts of Christmas, even though it's not the typical holiday dinner.
Ugly Sweaters
What's Christmastime without an ugly sweater party? Nothing, in my opinion. I love ugly sweaters. Anyone who has seen me around campus knows this. I wear the ugliest sweaters I can find year round, so of course I love to see everyone else wear them, too. It's so much fun to see what everyone comes up with. Some people wear a simple holiday themed sweater, while some people go all out on a homemade one. Whichever one you choose, it's sure to be a fun time.
Santa
Santa is weird, simple as that. He watches you year-round? Comes into your house and eats your cookies? I'm sorry, but that is so strange. I never believed in Santa as a kid.
My parents didn't encourage or discourage it, so it was never a big deal in my house. I just don't understand the appeal of Santa. Seeing him in the mall was scary as a kid. Why would I want to sit on some random man's lap? No thanks!
If I buy someone a present, they're going to know it's from me. Santa will be taking zero credit for the thought I put into it, thank you.
Elf on the Shelf
Elf on the Shelf is another thing that is creepy to me. I guess it could be mystical and cool for some kids, but I don't get it.
To me, it feels like adults lying to kids. It's often used as a way to keep kids in line, saying that the Elf will report them to Santa for being a bad kid.
I think you should just be honest with your kids and have open communication with them, instead of pinning it onto an omniscient elf toy. It would've scared me to have that smiling little elf in my house as a kid.