Paape enjoys role on Clarion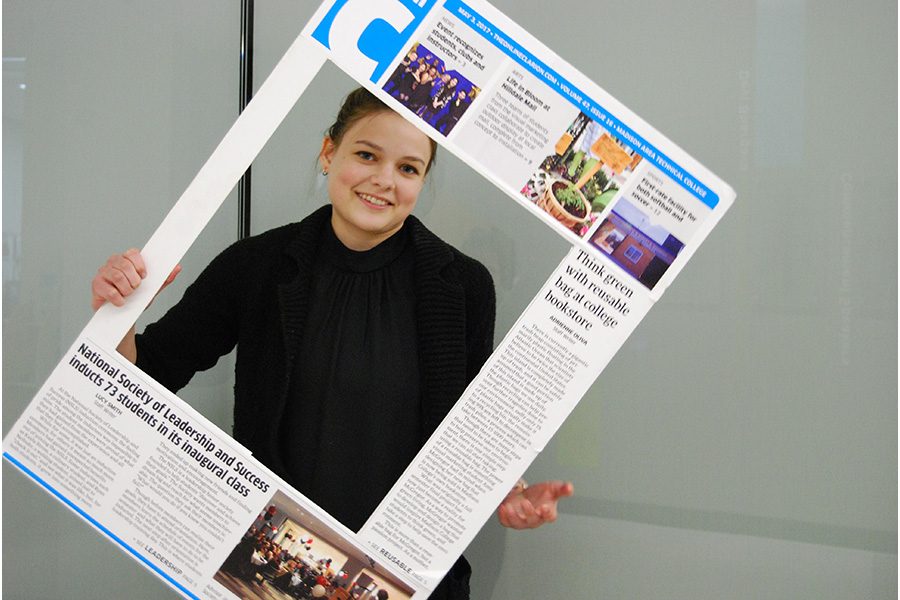 Katie Paape, News Editor
February 19, 2019
Hello readers of the Clarion. My name is Katie, and I am now the news editor of The Clarion. While I spent most of my life writing, until October, I had absolutely no experience doing any journalism or news-related writing of any kind.
The past few months has been a fun experience exploring this new kind of writing and it's a good divergence from college research papers and other kinds of fictional writing I did when I was a nerdy eleven-year-old.
I'll begin by being perfectly honest. When I first came into the Student Life office, I really didn't want to join the Clarion. I thought it would be a good addition to my college transfer application and future resume, so reluctantly I signed myself up.
After meeting Andrew Kicmol the Editor and Chief and having a long interview with Doug Kirchberg the Clarion advisor, I was happy I had impulsively hit "submit" on The Clarion interest form the previous afternoon. Five months later, I've met a lot of cool people, and hopefully improved my formally nonexistent journalism skills.
Now I'm here because I enjoy it – the writing, learning, and the people. The resume thing is just a bonus.
After easing my way in by writing an opinion piece and one event, I was casually told to do an interview for a news story. Having no journalism experience, and being an introvert, a casual interview felt more like a voluntary resignation into a torment chamber rather than a relaxed conversation. With my shaky paper filled with questions in hand and my shaky voice to match, I managed to stumble my way through my first-ever interview and somehow found myself committing to many more.
I discovered that interviewing becomes easier once you realize how much you can learn from people and how much knowledge you can acquire from asking a few simple questions.
Writing news stories has been one of my favorite parts of the Clarion, because I go to events that I otherwise never would have attended and talk to interesting people I never would have met. When you write news stories, you are essentially forced into surrounding yourself with all kinds of people, and in return, you are left with new opinions and views from many different perspectives.
Overall, joining the Clarion has been one of the most rewarding things I've done. Seeing your writing that was exclusively floating within your own mind become a real object in print is one of the most satisfying feelings. Writing, editing, and watching the whole paper come together is a fun – and sometimes a little crazy – a process that I will now look forward to every other Monday.
I still have a lot to learn about journalism, and I hope to continue to learn more about Madison College students and continue to write about all of the interesting people who are here.