Meet The Clarion's new editor in chief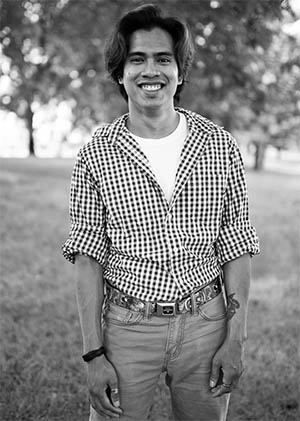 I am the new editor in chief of The Clarion. Yikes. Not sure how I was chosen for the job but since I'm supposed to introduce myself I'll give you my story.
I started at Madison College back when it was still called called MATC, before all the fancy renovations. Right out of high school, without any real idea of where I wanted to go in life. I took general classes as a part of the liberal arts transfer program but I wasn't really engaged, and eventually lost all interest in school and stopped going.
With debt from school and free time I got a job to make some money and figure things out. Years passed by and I found myself listless and without any ambition. I was stuck, my mindset was negative and getting worse. I wanted something else, I needed something else.
On more of an impulse than a solid plan or maybe sick of being asked every family get together, "when are you going back to school?" I reapplied as a student and picked out a class that would put me to work for The Clarion.
I figured it was a good way to get out of my comfort zone and experience something new. It turned out to be one of the best decisions of my life so far.
I enjoy getting to talk to new people, hearing their stories and the struggle of trying to put an article together. Once it's all done, it's a good feeling seeing your work put into print. Writing for The Clarion has given me something to be proud of, not just in my writing but
in myself. I don't know if I've ever been able to truly say that. It's also given me a reason to stay engaged in my education. I now want to transfer to a four-year college and earn a bachelor's degree in journalism.
Fast forward a year and an intimidating interview, and here I am, the editor in chief of The Clarion. I hope the influence of the staff that did so much to help me last year shows. I don't know that I can put into words what it means to me being in this position. Terrified and excited is a start, but with this second issue of the semester I find myself enjoying the challenge.
Now in a position of leadership, something completely foreign to me, I find myself doing more than ever, writing, editing, wrangling people and giving advice on writing and coming up with stories.
As much as writing for the paper has been the way out of my rut, it more importantly represents Madison College, the students, staff and faculty that make up the population of this college. I hope that during my time as editor in chief, our newspaper staff represents everyone affiliated with Madison College well and helps to show what this school and what writing for The Clarion has meant to me.