BCycle station at Truax Campus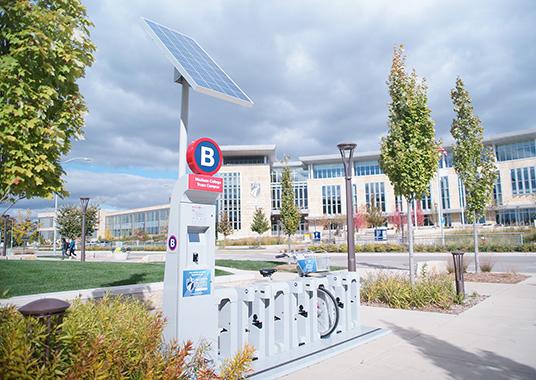 Many of you who attend classes or work at the Truax Campus have probably seen the newly installed Madison BCycle station in front of the Health Building. More than three years after the idea was first devised by student leaders, this project has finally become a reality. As part of the Student Senate's Commuter Services Awareness Month, I would like to make everyone aware of the benefits this bicycle sharing program brings to students and staff at Madison College.
First, BCycle provides opportunities for exercise. A membership provides you with unlimited rides lasting 30 minutes or less. These short trips start to add up, even if like me, you don't use it every day. The program keeps track of which stations you checked in and out at, as well as how much time you took, and makes an estimate of how far you rode and how many calories you burned. In a little under a month since I signed up, I have ridden nearly 90 miles.
BCycle gives us all a new way to travel, either as part of your commute or just for leisure while on break. While there are not very many nearby destinations from the Truax Campus this year, it is possible to reach the station at Olbrich Gardens in about 20 minutes—which is a must see if you have never been there—as well as the Eastwood & Division station near Monty's Blue Plate Diner, and Tenney Park in the same time. The bicycles also come equipped with a lock and key, so riding for a quick errand at one of the nearby businesses and returning within the half hour timeframe is also possible. Other businesses in the area have expressed interest in sponsoring their own stations to attract Madison College students, so we hope to see additional destinations next year.
For those at the Downtown Education Center, there is a station only one block away on Wisconsin Avenue right next to Merrill Lynch near the Capitol. There are so many great destinations in the downtown area, and if you're one of the students who use the shuttle service for commuting, this might just be the something extra to make your trip to and from home a little faster and more enjoyable.
Certainly not least, it is affordable and cost-effective. Under the current promotion, students and staff can receive a free membership lasting a full year through the end of December, and then for only $20 next year. The annual cost of sponsorship makes up only about 1 percent of the commuter services fee paid by students.
Winter will be here soon enough, so please take advantage of the free membership soon if you are able. Feel free to let Student Senate know at [email protected] or leave us a message at 608-246-6107 if you enjoy using the service, have ideas on how improve it, or have any other feedback. Also, if you ever run into trouble while using BCycle, please call their customer service at 800-473-4743, contact information is also located on each kiosk.