Sports editor cherishes trips to Lambeau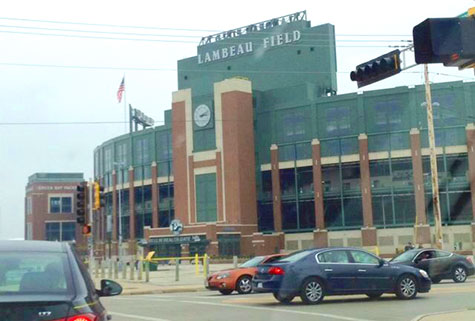 Frederic Hewitt, Sports Editor
October 16, 2014
The Great Wall of China, Stonehenge, The Pyramids, and The Sistine Chapel are among some of the most iconic places in the world.  People often mention these as places they would like to visit on their bucket list.
While this list would be a good start, one name would be missing – Lambeau Field.
Located in Green Bay, Lambeau Field opened on Sept. 29, 1957, becoming the home of the greatest football team the world has ever known, the Green Bay Packers.
Since the beginning of the Packer franchise they have found themselves decorated in accomplishment with 13 league championships, 9 conference championships, 15 division championships, 29 playoff appearances, and the second most Pro Football Hall of Fame members with 22.
One aspect that may be overlooked with all of these overwhelming accolades is the fact that Packer fans are the most dedicated fans among all of the NFL teams.  Since 1960, Lambeau field hasn't hosted a Packers game that wasn't sold out.  Regardless of how the team is performing, Cheeseheads stick together and support their team.
The waitlist to obtain season tickets to Packer games is over 86,000 names long.  That's more than an entire stadium's worth of seats.  The average amount of tickets that are granted to people on the list is about 90 per year.  Meaning, that if a name were added to the list today, it would take over 1,000 years for that person to be able to obtain their tickets.  This makes going to a game at Lambeau Field not only an exclusive opportunity, but also makes being a season ticket holder a highly coveted honor.
The new renovations of the stadium make the experience even more enjoyable.  The newly added $140.5 million atrium is absolutely astonishing, and will give even Bear fans the chills as they walk inside the majestic Frozen Tundra.
There's nothing like making the journey up to the Mecca of football and tailgating in front of Lambeau Field.  I recently enjoyed this experience in a game against the Minnesota Vikings, which resulted in a very pleasant outcome for the green and gold.
I highly anticipate a venture up north again very soon, and I suggest you do the same.