Creative writing background fits Sylla's role on Clarion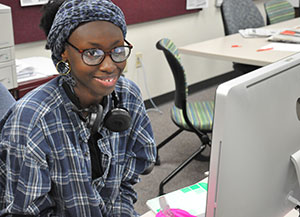 The day this issue is published I start my final class to complete my Social Media certificate. Sadly, it will also be my last class at Madison College. I'm going back to France when this semester ends, and I won't be coming back to Madison as far as I know.
I started working at The Clarion last semester, and I wish I had knocked on the door before then. However, as the saying goes, better late than never. Working as a staff writer and copy editor has been the best work experience. Really, these two occupations allow me to be involved in the community while doing something I really like: writing.
Working at The Clarion is the perfect job for an English as second language student who likes writing. This is especially true when it comes to being a copy editor, a job that requires me to read carefully, pay attention and sometimes reword other people's writing. I am foremost a creative writer, and I believe it shows sometimes, as I can privilege style over content. Making the transition from creative writing to newswriting was hard but beneficial. English isn't my first language, and I am naturally anxious, so working at The Clarion was the best therapy I ever had.
I'll forever be thankful for the people I've worked with: all the amazing editors, writers, graphic designers and advisors who make this newspaper happen.
It's been a privilege to work with such passionate and dedicated people.