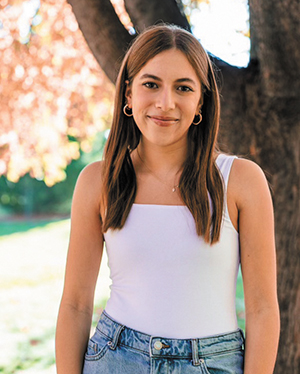 In the ever-evolving world of medical research and the pursuit of understanding complex diseases, students like Sammy Moreno stand out. Moreno spent last summer exploring the intricate realm of liver and pancreatic cancers, focusing on fibrolamellar carcinoma.
Moreno's journey began with admission into the Advancing Research in Science with Equity (ARISE)  research internship. Moreno believes it opens the door to the future and recommends all eligible students to participate in this program. After looking for a research internship, she found ARISE, hosted by UW-Madison. ARISE helps people from diverse backgrounds find their way into the biomedical field.
The Summer Research Opportunity
At ARISE, Moreno met Dr. Sean Ronnekleiv-Kelly, a surgical oncologist at the university.
"Once I got into the groove of it, [the program] was honestly so amazing. I would look forward to going into the lab every day. I describe it as this big puzzle that so many smart people come together to put together," Moreno said.
Given the immense impact of cancer on society and the pressing need for breakthroughs in treatment and prevention, Sammy felt a profound sense of responsibility, along with the pressure to make an impact.
Fibrolamellar Carcinoma: A Unique Challenge
Within the broader scope of liver and pancreatic cancers, Moreno focused on fibrolamellar carcinoma. This type of liver cancer is rare but is unique in its characteristics. It primarily affects young adults and typically presents with a distinct histological pattern, making it different from other forms of liver cancer.
Because of the cancer's complexity, Moreno was fascinated. Because of the limited knowledge available regarding its causes, progression and potential treatment options, Moreno knew that this was going to be an important issue.
Moreno's research experience was an intensive and immersive journey. Working with a team of experienced researchers, oncologists and pathologists, Moreno gained a comprehensive understanding of the disease.
Her research encompassed various aspects, such as potential therapeutic approaches. This disease is found on our 19th chromosome as a mutation, the team tested drug doses on cancer cells to see the effectiveness of different concentrations, providing insight into the disease's biology and the testing of potential treatment strategies.
Implications and Potential Breakthroughs
The team discovered specific genetic mutations that play a crucial role in the development and progression of the disease. This breakthrough advances our understanding of fibrolamellar carcinoma and may open the door to treatments for other cancers.
Moreno's long dedication demonstrated the valuable power of scientific research. Her work has the potential to impact the lives of countless individuals who face the daunting diagnosis of liver cancer, particularly those with fibrolamellar carcinoma.
Her journey is a testament to the profound impact a student can have on medical science and serves as an inspiring example of how endless curiosity and determined drive can lead to breakthroughs. As she continues her academic and research pursuits, there is no doubt that her contributions to the field will be invaluable.
"You might only be contributing a small part to the big puzzle, but it's still something. It takes a long time, and you can fail over and over again, but when I finished the program, I thought, 'Maybe I'll consider doing research in the future,'" Moreno said.
Story continues below advertisement