As summer ends, school activities pick up and students spark life back into the campus hallways. But when Madison College student, Truman Way came back to Truax for a quick bite to eat, he ended up paying more than he expected.
Effective Aug. 1, all dining services and cafeteria prices increased to keep up with the pace of inflation. For Way, that sticker shock is yet another price increase that he must take into consideration when budgeting for the upcoming school year.
Like many students at Madison College, Way is a part-time commuter working towards a Liberal Arts Transfer degree. He is invested in student life as General Manager of Clarion Broadcasting and the Vice President of Nerds of the Round Table.
Because of his campus commitments, he is often found in the Truax Building during the school day, so he relies on the cafeteria for convenient access to his meals.
"When you're on campus and you're hungry, you're not going to go drive down to Kwik Trip for food. It's just much more convenient and efficient to eat (at Madison College)," Way said.
Although, that convenience now comes at a higher price, prompting students like Way to consider the cost of buying lunch while on campus.
The cost of inflation affects everyone
When Madison College Administration decided to increase the cafeteria prices, they considered many factors, chiefly citing the rising cost of inflation. The overall price increase of some of the common food items is under a dollar, at $0.87, a 21.7% increase from last year's prices.
The increases are also not standard across the board, but rather a strategic price increase for each food item in response to the rising cost of materials.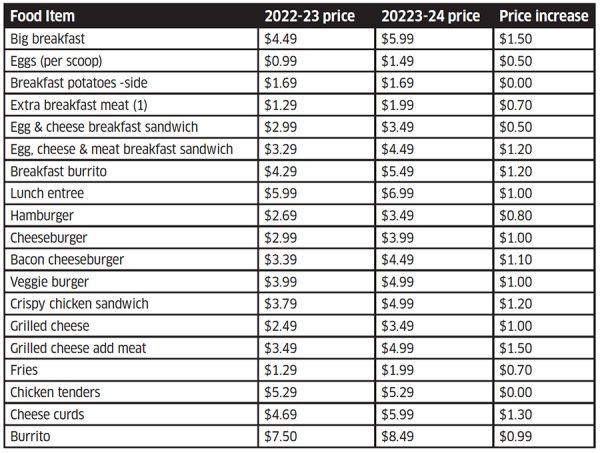 This is only the second time in the last five years that prices have been increased in the cafeteria. The last time being in August of 2021 as COVID-19 restrictions were lifting and the cafeteria opened back up. Historically, Dining Services has a longtime trend of being unable to generate enough revenue to support its expenditures.
According to Ben Monty, Budget Director, the Dining Services department falls under "Enterprise Fund" types, which are operations that are intended to generate revenue via self-sustaining services, like daily food provisions or printing needs. However, Dining Services has not been able to financially support itself for the last 10 years, with the worst financial performance occurring between 2020-2022, during the COVID-19 pandemic shutdowns.
Part of that is due to wage increases approved by the District Board. In July, full- and part-time Madison College employees received up to a 4% raise, and student employees saw a $1 increase to the hourly minimum wage from $14 to $15 per hour. The increase in wages means higher expenditure in the Dining Services budget.
The other major influence is a decline in customer base since the traditional flow of students who would usually frequent the cafeteria are not returning to campus. While college enrollment has improved since the pandemic with 24,722 students enrolling in 2022, Madison College has been unable to reach pre-pandemic levels of enrollment with 33,360 students enrolling in 2019.
Additionally, Madison College has always had a reputation as a commuter college, but Monty suspects that commuting has only become more popular even since the COVID-19 pandemic. However, many students take advantage of Online and Hybrid learning models, which reduces the number of students that would physically be on the Truax Campus.
"We're not trying to run [the cafeteria] purely to make money. We want to keep the prices affordable for students, but at the same time, we can't just keep losing money. At some point we have to cover those losses," Monty said.
From a financial perspective, Monty is certainly correct that more funding is needed to address the deficit in the Dining Services budget.
With credit to Dining Services, the revenue has increased from $1,326,000 in 2021 to 2022 to $2,033,000 in 2022 to 2023, but there is still more work needed to turn Dining Services into a true Enterprise Operation.
Helping students offset cost
The Campus Services Manager, Kim Henderson, presides over Enterprise Operations. With two years at Madison College under her belt, with the struggles of reopening the cafeteria after the pandemic, she is looking to change the way students see dining services.
Henderson understands the financial burden of students, especially related to food insecurity amidst the current state of the economy. In fact, she has even covered the bill for some students to be able eat because she has seen how difficult, and sometimes even shameful, it can be to ask for help with food.
"Most students are very prideful, so they don't want everybody to know about their food insecurity. So, we created a voucher, so it doesn't identify students," Henderson said.
Overall, that is why her department strives to find ways that ease the price burden for students and connect them to the proper resources to access reliable and healthy food options on campus. Using new meal deals, discounts and vouchers, students can make the cost of food more affordable.
In addition to the traditional Meal of the Day deal, there are three new lunch deals piloting this Fall term. Either a burrito or full panini sandwich with a side (chips or cookie) and fountain soda costs $9.99, or students can sub a half panini sandwich for $6.99 as a package deal.
By depositing money on the OneCard, students can save 10% on food purchases at any campus dining spot. Dining Services has also been working in partnership with Counseling Services to expand voucher options to allow students with food insecurity to access meal options at low and no cost.
Story continues below advertisement
Quality matters
For students, taking advantage of these opportunities can make a substantial difference in cost savings as the prices slowly creep up over time. And while the overall average cafeteria price increase of $0.87 is not much, those increases add up over time and can impact tightened budgets.
Still, to a degree, students like Way do understand the reality of the situation given the rate of inflation. But even so, Way said that he would not mind paying more if the quality of the food better matched the price he was paying.
"The meals aren't awful. It's mostly just OK overall, but the quality just isn't there so the food doesn't feel worth the price that I'm paying," Way said.
Hendersen acknowledges that there are many rumored comments, both good and bad, about the quality of the cafeteria food from students, so she is determined to collect quantifiable data on consumer opinions. She said she likes to operate on certified facts, not rumors, so Dining Services plans to roll out a survey so that students submit anonymous feedback for improvement.
Starting on Sept. 5, the cafeteria will place a secure box in the atrium around the corner to collect survey responses from cafeteria patrons. The box will remain available throughout the year and will periodically be checked so Dining Services can respond to feedback.
Henderson says that this is just one of the many improvements she plans to roll out this year.
Working with her Dinning Services team, Lisa Hunter, David Dorst and Mike Riese, together they will be processing the survey responses and strategizing plans for how to innovate the cafeteria and serve a product that students can enjoy.