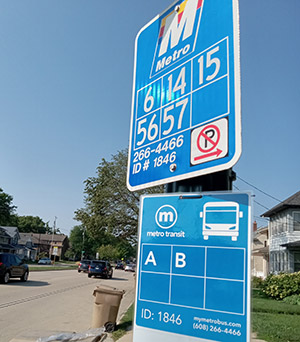 This summer, the Madison Metro public transit system underwent major updates that impacted many of the local bus routes across Madison, including routes to Madison College. This will, in turn, heavily impact students and faculty who rely on public transportation as the fall semester starts.
Firstly, an overview of system changes that impact commutes around the city using Madison Metro.
Routes have been added, removed and modified city-wide. In most cases route names have changed to letters rather than numbers.

Some

bus stops have been closed

and are no longer on any metro routes. Others have been newly opened.

North, East and West transfer stations are all closed; the South transfer station (located across the street from Goodman South campus) will remain open as an ordinary bus stop.
The bus routes to Madison College campuses have changed as well, both in name and in course. An up-to-date bus route map of Madison can be found on the Madison city website.
The Goodman South campus receives service from the B route.

The routes that stop at the Truax campus are the A and the L.

The stop for route A is across Anderson Street from the Truax campus. The A does

not

drop off at the on-campus bus shelters located near the welcome center and health education building.
As for Bus Rapid Transit (BRT), the plan currently stands for routes A and B to be converted to Rapid Transit in late 2024 after construction on new bus stops is completed.
Story continues below advertisement
Rapid transit buses will pass through every 15 minutes, travel in bus-exclusive lanes and make fewer stops to minimize travel time for users.

The same two-dollar fare will apply when riding BRT; bus passes, including

student bus passes

offered in the Madison College student life center, will still be valid when riding rapid transit.

BRT will serve both the Goodman South and Truax campuses.
For more information about the Madison Metro system changes and how they affect commuters, visit the City of Madison website.