Senate seeks feedback at event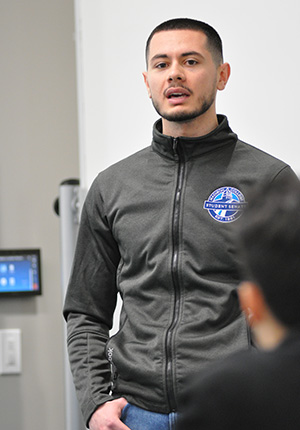 The Student Senate held a town hall meet on Feb. 14, its first at the Goodman South campus.
The Student Senate is the elected representative of all students at Madison College. It is the student government of the college, coordinating services for students, advocating for students and more.
Empowered by State Law (Wisconsin State Statute 38.145), the Senate is the students' leading voice and is primarily responsible for formulating and reviewing policies concerning student life and services.
Prompted by the Student Senate hosting a hybrid town hall last semester, where there were various concerns about the Goodman South campus, this town hall centered on receiving student feedback from those attending the Goodman South campus classes.
Using Post-it notes collected from the room, some of the comments included the types of clubs they'd like to see at Goodman South. They would appreciate seeing more identity and culture clubs, addiction clubs and anatomy and physiology labs.
The questions that solicited the most responses were what can students do at Truax that you wish you could do here? They offered a variety of comments, including human services, peer specialists, volunteer activities and leadership roles.
The students also want to see Goodman South promoting the Retention Initiatives and Student Engagement (RISE) programs. They would also appreciate a fitness center, a work area and more in-person tutoring.
Student Senate Advisor Ellie Rome was excited about the variety and amount of feedback they received, although not everybody was ready to offer an issue.
"After the town hall, Senators and Senate officers approached students in the cafeteria at Goodman South to ask if they had any concerns to share. Most students who they talked to did not have any concerns," said Rome.