Mental Health Matters project earns honor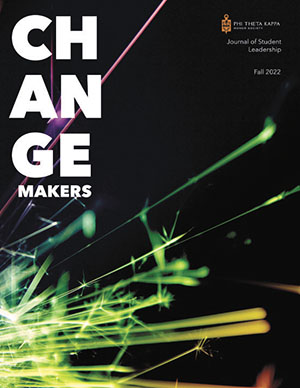 Madison College's chapter of the Phi Theta Kappa honor society has been highlighted in the magazine "Change Makers: Phi Theta Kappa Journal of Student Leadership." The magazine features an article about the student group's college project from 2021, Mental Health Matters.
To be considered for publication in "Change Makers," a chapter must submit a Hallmark Award entry for the chapter's college project. The articles published in "Change Makers" demonstrate exceptional planning, leadership development and service activities carefully designed to improve the college community.
Nic Leighty was a Madison College student and the vice president of leadership who led the project when it was launched in the fall 2021 semester. Leighty explained how the group produced the idea for the project.
"From what I remember, it came out of like a team brainstorming process, with like COVID and everything. We found that mental health would be a good place to focus on," Leighty said. "It's helping you with your everyday life."
This project aimed to help students struggling with the transition to remote learning and being away from people because of COVID-19. The project even included studying sleeping habits by having a sleep journal for a week and then looking at the sleep quality results depending on what they were thinking about before going to sleep.
In addition, the project featured having two guest speakers over the year who shared their struggles to help others learn from their experiences.
"The idea kind of applied the learning that we did in the lessons," said Marty Crabbs, who is one of two chapter advisors at Madison College. "We worked with our counseling department and with our mental health impact team at the college, and we devised the project."
"The concept was just like you can go to the gym and exercise your muscles, there are things you can do to exercise your mental health as well."
There were over 400 college projects submitted for possible inclusion in the 2022 edition of "Change Maker." Madison College's project was one of 16 to be chosen to be featured.
Phi Theta Kappa is a two-year college honor society that recognizes high academic achievement and provides opportunities for members to grow as scholars and leaders. One thing the project taught the participants was how to work with a team.
"Getting involved in Phi Theta Kappa really gives you that additional thing that you can't always get in the classroom – it gives you the opportunity to interact with fellow members," Crabbs said.
Boh Kyeong Suh was the Phi Theta Kappa chapter president in Madison College when they did the project in 2021. Suh enjoyed being part of the team and found it rewarding besides learning from doing the research itself.
"For me, that teamwork was a huge thing because … even though we all have different levels of education and different specialties, we still like to try to manage what we can do to make each person contribute," Suh said.
"Different work with different people really helps me to understand teamwork better and how we can delegate responsibilities," Leighty added.