An inclusive signage change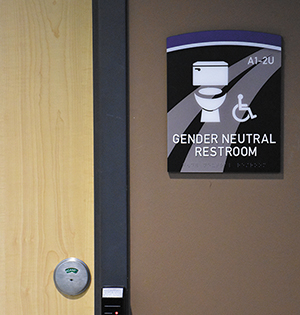 As students make their way onto campus for the spring semester, they might notice some changes by the bathrooms. All single person restrooms' signage will be changed, now reading "Gender Neutral Restroom."
This decision was made by a committee that included the HR office and the Disability Resource Center. After some conversations, it was decided that the new bathroom signs would be better than the traditional ones, according to Fred Brechlin, director of planning and construction management. The changes will be made at 30 different bathrooms, including campuses outside of Truax.
Brechlin says that while this will be an easy project, it's a good thing for Madison College. So far, there have not been any positive or negative reactions to the change from staff or students.
Brechlin also says that the school is always looking to make things more inclusive. One way is already found in the recent student study spaces in open corridors. There are also student nooks on the third floor of Truax, where students can study by themselves or with their peers. In the Architecture and Design area of the campus located on the far east end of the third floor, there is a student kitchen that is available for use by all students.
Another feature that will be changed is the floor plans. There will be updated floor plans around campus to show students what has changed over the break. Additionally, online versions of the floor plans will be uploaded and accessible for technology with screen readers. Brechlin expects this update to come in the next several months.