Meet Public Safety Officers for coffee on Dec. 13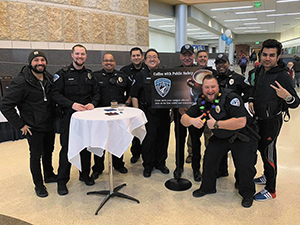 Join Public Safety on Tuesday, Dec. 13, for Coffee with Public Safety!  Stop by and enjoy a cup of coffee on us and chat with some of our officers. We will be located in the Gateway at the Truax Campus.
Periodically Public Safety holds the Coffee with Public Safety event to show our appreciation to our students and the campus community.  This gives us a chance to get to meet folks on campus and to get to know you all better.
We hope to see you there and best of luck to everyone on finals as we come to the end of the fall semester.
WolfPack Alert  
Have you signed up to get Wolf-Pack Alerts from Madison College? These alerts notify you of school cancellations or about emergencies on or near campus. If not, please do so on our webpage. Registration is free, easy and takes about a minute on your mobile device. In addition to our Facebook page, we have a Twitter account!  Be sure to follow @PublicSafetyMC to stay informed of what's happening on your campus.