From Madison College to an unexpected Pulitzer Prize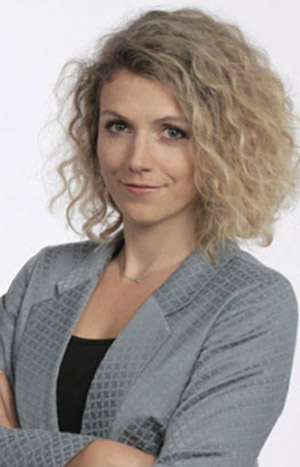 In the early morning of June 24, a 12-story condominium in Miami, half of Champlain Towers South, collapsed. Miami Herald investigative reporter Sarah Blaskey woke up at 5:45 a.m. and learned the news.
While she didn't know the specific details, she knew that a building falling in a city where she worked as an investigative reporter would change her life forever, she said.
After hearing the news, Blaskey immediately contacted her editor. Minutes later, Casey Frank called back and assigned her as the lead investigative reporter, tasking her to explore why the building fell.
Blaskey, a Madison College journalism student and 2010 Clarion Managing Editor, covered the 2017 Mexico earthquake and the 2018 Miami bridge collapse. From her experience working in disasters like these, she knew there would be a high death toll, with information and details unfolding slowly.
Investigating and Partnering
As Blaskey's colleagues were at the Champlain South Towers interviewing witnesses, Blaskey was at the newspaper offices placing the first records request before 7 a.m. (The Champlain Towers South would later be referred to as the "Surfside Condominium.")
She learned everything she could about reinforced concrete and was immersed in a crash course on structural engineering.
The Herald contracted Dr. Dawn Lehman, University of Washington professor of civil and environmental engineering, to assist them with the reporting. Leham studied photographs, videos, drawings and permits to understand why the condominium collapsed. Blaskey and Lehman talked for hours every day for six months.
Blaskey can't say enough about Lehman's patience in explaining engineering concepts repeatedly.
"It was a really unique experience for me working so closely with somebody who was not a journalist and trying to blend those two worlds," she said.
Blaskey is fascinated with interdisciplinary work, where journalists partner with experts to create something better than journalists can give their readers. "Partnering with those experts can be really valuable to elevate what we're able to give to our audience," she said.
"House of Cards"
In addition to Lehman, several engineers donated their time to help the staff understand structural concepts.
Eventually, the Surfside Condominium collapse death toll came to 98 residents dead. The Herald investigative team worked around the clock for months to get the answers as to why the building pancaked. When it wrapped up, it took about 13 months.
The team presented the final form of their investigation titled "House of Cards," an animated scrolling article with visual metaphors that helped explain extremely complicated engineering concepts.
"House of Cards" presented thinking outside of that traditional print box and allowed them to create something that resonated with many people.
The reporter said that there was something about this step-by-step presentation, with compelling visuals, that drove home the point to readers.
"It's back to that concept of innovation. Maybe we can see this moment where we can explain better than we've been able to explain in the past. That was a really good experience for me to present the information like that," Blaskey said.
An Emotional Journey
Blaskey explains that when tragedies like the Surfside Collapse happen, an investigative team becomes a quick unit that has to dig into why something happened. As an investigative reporter, she had to put her emotions aside to do her job, but eventually, she had to cope with her feelings.
"There is a balance between not making the story about you and not becoming the story, keeping some objective perspective. But these are my neighbors. This happened 17 blocks down the street from my house," Blaskey said.
"This is on my running route. I ran past this building every day. I knew people who knew people (in the building). This is my community, my neighbors."
She says it hits hard for local reporters when tragedies happen in their backyard, which was true of Surfside. Reporters have to balance reporting objectively and quickly, and they can't let their emotions overwhelm them, but they also must feel them.
"Emotions can be our strength as reporters. Having a connection to the community allows me to tell the story in a unique way. It allows my colleagues to tell the story and walk away. It also gave me a sense of motivation and purpose."
She says she endured long hours and no weekends off because she felt the service and the drive to give her community answers.
"It's my contribution. It's how I give back. It's how I honor the people who lost their lives. That means everything to me."
A Team
Last May, the Miami Herald won the Pulitzer Prize for breaking news reporting on the Surfside Tower collapse. The prize was awarded to about 40 different journalists in the newsroom.
Blaskey points out that not all journalists are journalists in a typical way people think of them.
She points out there are journalists on the field who are interviewing people at the scene. Then there are journalists like Blaskey investigating, requesting records and compiling data.
Along with traditional journalists, copy editors, photographers and social media producers collected stories, told the stories and engaged with the community.
In addition to appreciating her colleagues, Blaskey says she values her editor Casey Frank.
"I could not have done any of the work I do without him and his support and faith in me," Blaskey said, noting the long hours and times she was completely baffled. "He's just been incredible."
Winning a Pulitzer, "Never comes down to one person. That's the point I want to make. This is not about me." Blaskey said, "I'm a member of a much bigger team, and that team is fantastic, and every single one of them poured their hearts and souls into this coverage."
Blaskey is proud to work on the Herald, a legacy paper.
"Despite having staffing problems, budget shortages and reductions over the years, the staff came out and represented their community. They did this for the love of their community."
Editor's note: To see the "House of Cards" presentation, along with the Miami Herald stories, computer model and podcast see: https://www.miamiherald.com/news/special-reports/surfside-investigation/article256633336.html