'Transcend' gallery exhibit
Transcending the binary in portrait form
Artist Rae Senarighi's portrait paintings were displayed in the Truax Gallery this month, spotlighting transgender subjects and a vibrant color palette.
Each portrait makes use of hues spanning across the rainbow. Articles of clothing are an exception to this, being brushed in black and white tones only, to maintain focus on the subject, according to the artist's statement. The statement also comments on the "erasure from public space" of the transgender populace, which inspired Senarighi to paint the pale empty skies that linger in the background of the exhibit's 14 paintings.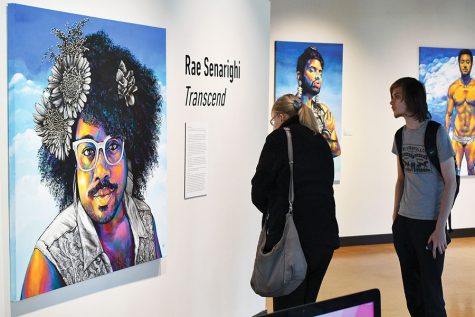 "I layer color until I can feel that person's essence coming through," said Senarighi about his artistic process and deliberate choosing of subjects based on their personal stories and unique identities.
Senarighi gave two intimate presentations of his artwork in the gallery this month, the first of which attracted over 40 visitors to the compact single-room gallery, according to a headcount kept by the gallery's staff. The artist's second presentation was Sept. 22, and the small audience was left captivated by a telling of Senarighi's artistic and personal journey, which includes a battle with cancer.
The Madison resident is non-binary himself, and feels his art serves as a form of activism, citing the lack of mainstream trans representation in art as a source of his inspiration.
"This series is really a culmination of the lessons I've learned, and putting them into action," he stated during Thursday's presentation. "This is very personal."
Senarighi's work can now be found on Instagram, @transpainter, or on the web at raesenarighi.com, will appear in the Truax Gallery a final time in a closing reception, set for Sept. 29 at 4 p.m. The event is free.