Cost of education divides us more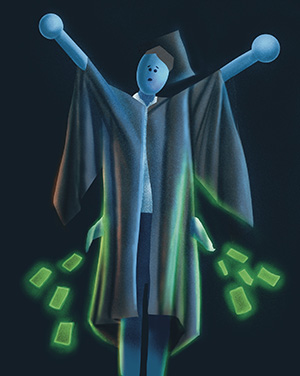 People enroll in college for countless reasons, but the primary motivation for most is an economic one: trying to get ahead in life, pulling yourself up by your bootstraps and getting a big job in the real world. For that, you need a degree, proof you are intelligent and motivated enough to work in the field you chose to specialize in.
"There just aren't a lot of good jobs you can get without a degree," says 21-year-old Madison College student Neo Negru. "Sure, you can work at a retail place or whatever and make okay money as a manager, but no one wants to do that for their entire life."
A college education has long been a mark of prestige, something almost more impressive to have achieved financially than academically. After all, there are few things more synonymous with wealth in the United States than a degree from an Ivy League, institutions that are known for being expensive and old. A resume with a private university, tuition the same price as a small home, have always been more sought after than community college.
Historically speaking, though, there have always been educational options for the less fortunate that did not cost an exorbitant amount in the form of public universities, typically just one tenth the cost of a private education prior to 1980.
College is also a time of political awakening for many students, rich and poor alike. Many causes are close to the hearts of people in their 20s, but one of the most immediate and pressing concerns in recent years has been the rapidly rising cost of college. Since 1980, the cost of public tuitions have increased at five times the speed of the Consumer Price Index, an almost 1200% increase compared to the CPI increase of 231%, as reported by the National Center for Education Statistics.
Even technical schools, like Madison College, are not exempt from this increase. According to the Chronicle of Higher Education's records, the total cost of the 1999-2000 school year was only $1,818. In stark contrast, a single semester of the 2021-2022 school year will run students upwards of $2,700, while two years in the Liberal Arts transfer program is a minimum of $11,600. This stark increase in price has been protested across the entire country, affecting countless institutions of education and their students. Madison College students are not alone in their fight for reduced, or even free, public education.
At a recent meeting of the campus group advocating for free public college, Madison College student Gia Tierney has this to say when asked about the exponential increase in education costs:
"It's messed up, it really is. We fund this place and UW through our taxes, and it still cost [sic] more than a new car to get a degree at the cheap option! Where is all that money going? Textbooks, tools, parking, tuition – it's all coming out of my pocket. How is this the affordable option for a college education?"
The Biden administration campaigned on the promise of free community college, but some students are saying that he not only failed to deliver on that promise, but has done nothing to stop the rapidly ballooning educational costs. Since 2020, tuition at Madison College has gone from an average of $4,500 to almost $5,000 per year.
"It's completely unaffordable without going into debt," says Tierney. "And we don't really have a choice in coming here, a lot of us just can't afford going to UW right out the gate."
Students interested in fighting for free or reduced tuition rates can find resources in various Facebook groups, though that information is more generalized, and are highly encouraged to get in touch with state and school administrators.
"If we make enough noise, they have to listen," said Negru towards the end of the group's meeting. "They're gonna have to."