Senate elections are open
Madison College students have until April 8 to cast ballot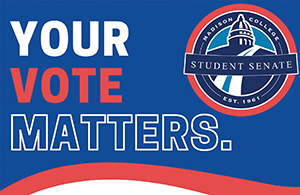 It's election season for Madison College students. Every year, new members of Student Senate run for roles in the student governance.
By noon on April 8, students must choose who they think fits best for Student Senate roles. A ballot is sent to their email.
This year, there are 19 candidates in the running. There are different roles that are available, with 16 students running for general Senator seats, two running for Goodman South Senator role and two running for President, one of which is running for Senator and President.
But if there are any vacant seats after the election, there's still a chance to become a member. To do so, the interested person has to attend three Student Senate General Assembly meetings, submit the Senator application and give remarks at a meeting about why they're interested. Then, current members of the Senate vote on whether or not to appoint that person to the position.
"Student Senators represent the student voice with college administrators and within the Shared Governance system. Shared Governance brings together students, staff, faculty, and administrators to make decisions about policy at the college," said Ellie Rome, Student Senate advisor.
Some of the Senate's past initiatives helped with starting the Textbook Rental Program, campus pantries and student access to the Madison Metro bus pass program. Next year, there will be a focus on racial equity and student engagement.