Madison College helps 'Shine a Light' on youth homelessness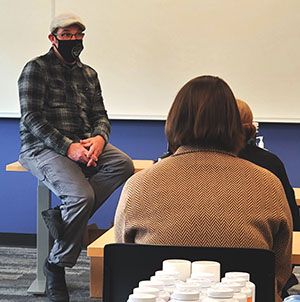 On Nov. 11, an event was held at Madison College's Goodman South Campus to bring awareness to rising youth homelessness in the Madison area. 
The event, "Shine a Light: National Runaway Prevention Month," was hosted by the college's Volunteer Center. It featured a speaker from local non-profit, Briarpatch Youth Services, to touch on the prevalent issues surrounding at-risk youth homelessness.
Event organizer and student volunteer, Sam Johnson, explained that the event was intended to, "…provide education into the homeless and at-risk youth population here in Madison, to inspire people to learn about this problem in Madison and start their thinking process of 'what can I do to make a difference'?"
Briarpatch's street outreach coordinator, Tyler Schueffner, spoke to students in attendance on common issues and misconceptions surrounding youth housing insecurity. From drug addictions to in-home abuse to financial instability, Schueffner explained, "There's so many different issues facing at-risk students…it's our goal to help people find housing and get them the resources they need."
"One big issue, or misconception, is that Madison is a place full of opportunities," Schueffner continued, "Sadly, the reality just doesn't look the same for everyone."
Schueffner ended by mentioning numerous opportunities Briarpatch has currently available for students at Madison College, from volunteer and internship positions to a possible seat on the organization's Youth Action Board, which advises on matters regarding use of funds and assets, ensuring they are used for the best interests of the students and youth in-need. The board, Schueffner said, is extremely needed given the new funding made available to Briarpatch through a Youth Homelessness Education Grant.
If you or someone you know is in need of safe and stable housing, you can contact Briarpatch Youth Services 24 Hour Phone Line at (608) 251 – 1126.