Are you up to the Madison College Challenge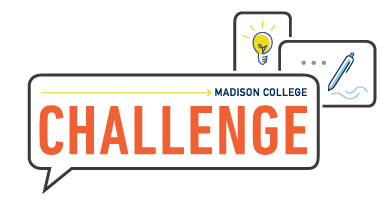 Andrew Bajakian, owner of barbecue catering business Primal 'Cue, attributes some his confidence to become a business owner to the Madison College Challenge. The competition which has now opened its doors to welcome developing entrepreneurs into its 9th year, is increasingly becoming an inspiring and encouraging experience for students.
As a United States Army Veteran, who spent much of his time in the south, Bajakian acquired an exquisite and refined taste for traditional—wood fed fires and slowly, thoroughly cooked—barbecue. Living in Wisconsin, unable to find these succulent flavors, he set out to become the person to introduce this cuisine into his community. The small business and culinary arts program in Madison College were his first steps in achieving his already set goal, however, the referral of his teachers to join the challenge resulted in him trusting his abilities through the recognition of experts.
For eight years the Madison College Challenge has been an event for entrepreneurs to have a firsthand experience on what it means to materialize an idea. Many students have benefitted from the process of creating a functional business plan to further develop in the real market, as it was the case in the stablishing of Primal 'Cue.
In earlier editions, participants were asked to design, then present in front of a panel, their business plan. All of whom were competing for a generous cash prize to set aside towards their potential business opportunity. "It was nerve wrecking, to be honest. You know you had to work hard on this plan, you know you have more on the line than just trying to get an A for that class," comments Bajakian.
On this occasion, The Center of Entrepreneurship, in order to have a more inclusive audience, has made modifications to the traditional process to attract students with business ideas in whatever stage these may be. Completing a detailed business plan may seem overwhelming, more so without previous experience. This year, business or entrepreneurship expertise is not needed to compete.
Bryan Woodhouse, the executive director of The Center of Entrepreneurship, mentions that this year the challenge will be styled more as a pitch. Furthermore, the intention is to make it more accessible by formulating a thorough business executive summary instead of submitting a completed 15-to-20-page business plan.
Additionally, all participants are given the opportunity of receiving free coaching. Experts on the matter will be paired with students to provide assistances while developing the executive summary.
Another substantial change within the challenge is the format it has embraced. Whereas Bajakian had the opportunity to face his audience in person, serving delicious examples of his fine cooking, this year participants will need to face their judges remotely. The organizers, putting the health and wellbeing of everyone primarily.
This format will be the same for meetings with the coaches as well as the six-week accelerator course that will begin tentatively on March 26, following the closing of inscriptions on March 12.
The six-week program, besides working towards teaching new skills, it will feature exposure to successful entrepreneurs. These will be organized to take place at accessible hours for students but there will also be recordings available to watch whenever possible.
"What we are trying to do is plant seeds for the future, that any of our students, no matter which field they're coming from, can be up there. You can own your own business, you could work for yourself," comments Woodhouse.
Bajakian, based on his experience, strongly encourages students to participate. He states that to participate there is no need for a big idea as long as you have one and believe it can work. He mentions that learning is always a growing process and therefore taking no for an answer is never an option. It is important to endeavor and ask the whys behind a no to keep growing and learning. The challenge is a terrific opportunity for this process.
Woodhouse has praised Bajakian's journey as an entrepreneur, emphasizing the uniqueness of his approach and the progress he has made, successful adapting as necessary, even in these unprecedented times. He states, "Andrew was a joy to have in our Culinary program, is well on his way as an entrepreneur, and we are very excited for him and proud to call him part of our Madison College family!"
For this edition, the prizes have not yet been established, however, the center of entrepreneurship is working closely with great sponsors to offer an opportunity to more participants with a chance of winning. Once the total amount of prizes has been reached, these will be divided to benefit more students.
To participate there is no credit requirement and contestants may enter individually or as part of a team. You can submit a brief one-page paragraph or a three-minute video expressing the goal, visions, and current progress of the idea to [email protected] by Friday, March 12. After the preparation and guidance to all participants, the final pitch will take place on Friday, May 7. By signing up early, you will have more time to work with your assign coach on preparing your executive summary. For more information visit https://madisoncollege.edu/madison-college-challenge#fndtn-panel0.
To follow and support Bajakian's entrepreneur process and try his delicious barbecue you can follow his business on social media under @primalcue. Furthermore, you can visit the official Primal 'Cue website at http://www.primalcue.com/.