Advice for First Time Voters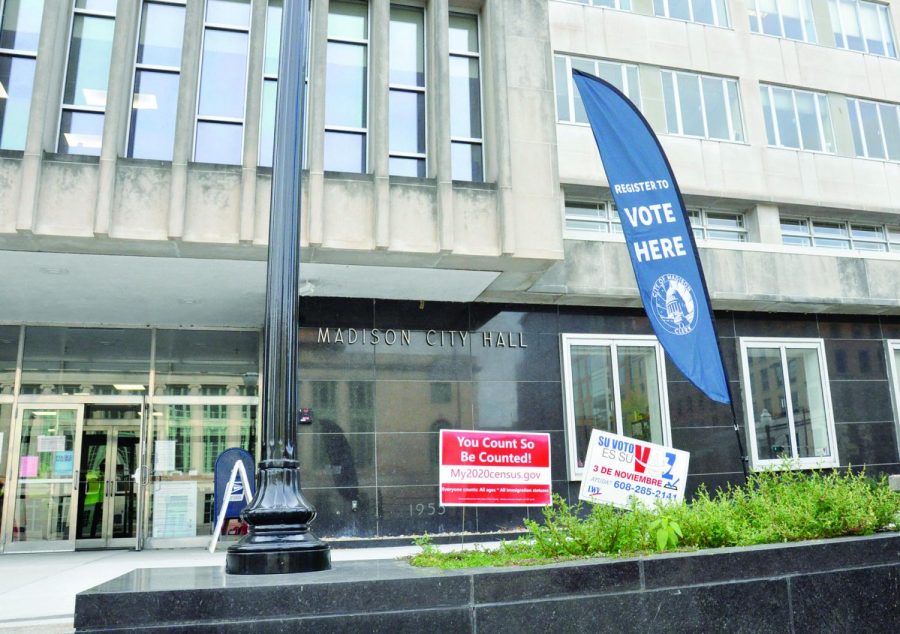 As the 2020 presidential election approaches, it'll be important for first-time voters to gather information about how to vote.
Kathleen Fullin, a volunteer at Dane County's League of Women Voters and liaison for Dane County League of Women Voters and Madison College, has some advice for first–time voters at Madison College.
In order to vote, you must first register to vote. The deadline to register online and through the mail has passed already, but first-time voters will still be able to register during in-person absentee voting (IPAV) before election day or at a polling place on election day.
Before you register to vote, you must check which municipality you're able to vote in.
"You have to vote based on where you live. You can't just vote any place. So, myvote.wi.gov is a wonderful resource because that's how you check to make sure you're registered where you live now. It's where you check to see where your polling place is for that address where you live," Fullin said.
Until Oct. 30, voters will have the chance to register at IPAV on Madison College campuses from 10 a.m.– 6 p.m.
"Students could register to vote on campus at the Madison College Truax campus in the Human and Protective Services parking lot on Pearson St.," said Fullin.
IPAV will be held at the Madison College South campus, too, "on the far West side of the parking lot along Perry St."
If you live in Madison, you can also register at certain Madison Public Libraries until Oct 31. Those library locations include Pinney Library, Central Library, Sequoya Library, Alicia Ashman Library, Goodman South Madison Library, Hawthorne Library, Lakeview Library, Meadowridge Library and Monroe St. Library.
When you go to register to vote at any of these locations, you must bring proof of residence.
"I've noticed at Madison College a lot of students have either a state of Wisconsin driver's license or a state of Wisconsin ID from the division of motor vehicles. So, if your address and where you live is on that, then that can prove your residence. There's a lot of other things that you can use," said Fullin.
After you've used your proof of residence to register, you can vote either at the IPAV at Madison College, the IPAV at Madison Public Libraries or your nearest polling place.
When you go to these places to vote, you must bring proof of identity. "So, to register, you prove where you live. To vote, you prove who you are," said Fullin. Driver's licenses, ID cards, and passports count as proof of identity. Madison College students can also use Student IDs as proof of identity.
Fullin advised that before they go to vote, first-time voters should "Go to vote411.org and see what's on their ballot so that they're ready. If they're going to go through all this and have their proof of residence and have their ID with them, knowing what's going to be on their ballot is helpful."
Brianna Stapleton-Welch, Volunteer Center advisor, had some additional advice for first-time voters at Madison College.
Stapleton-Welch said that you could utilize Turbo Vote. Turbo Vote has a customized website for Madison College, which walks students through the process of either registering, requesting their ballot or finding their voting place.
"Whatever it is that you as a voter need, they'll help you do that," said Stapleton-Welch.
Stapleton-Welch also recommended that first-time voters check out the Campus Election Engagement Project website.
"They have nonpartisan guides to candidates, so if you're like, 'I want to see issue by issue what each candidate represents,' they have those on their website," said Stapleton-Welch. "They have a map of the U.S. You can click on Wisconsin, and they have guides about the major elections in the state."
Stapleton-Welch noted that Band of Voters is another helpful resource for first-time voters to use.
"They make these cool cards, these my voting plan cards that will help you figure out, OK, where are you going to go? If you're going to vote in person, do you have your mask? Do you have snacks if you have to wait? All that kind of stuff, so that's part of another resource…" said Stapleton-Welch.
There are several resources that first-time voters can use to gather information about how to vote. Use the time before election day to find out what you still need to do in order to vote in the next presidential election.