Public Safety reminds students to complete health screening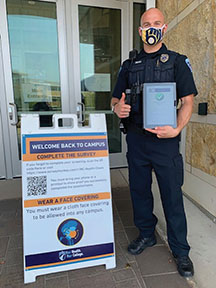 Since the beginning of the Covid-19 pandemic, Public Safety has remained on campus ensuring the safety of the campus community.  You will still find us out on patrol as well as staffing entrances to screen those coming to campus.
You can reach a Public Safety Officer 24 hours a day by calling our emergency number at 608-245-2222.
Here are a couple quick reminders:
• In person services are limited at this time.  Please check the Madison College website before coming on campus to see if your issue can be resolved remotely.
• If you are coming to campus for a class or scheduled meeting, please complete the health screening survey before coming to campus.  You can find the survey at www.madisoncollege.edu/coronavirus.  Once completed, take a screenshot or picture of the green check mark and be prepared to present it when asked.
• Wear a mask at all times while inside any Madison College building.
• Reminder that Public Safety is still performing all normal services including vehicle unlocks, jump starts, safety escorts, etc.  If you have a question or concern, please don't hesitate to give us a call.