Response to COVID-19 draws protest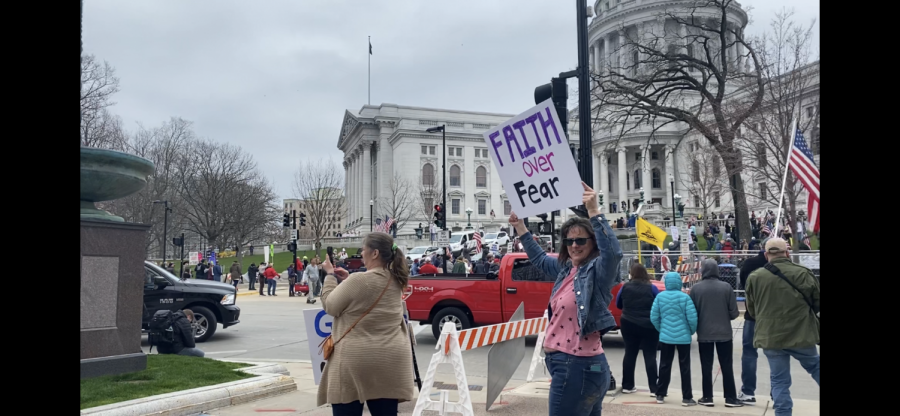 Early in Wisconsin's battle against the new coronavirus, Gov. Tony Evers advocated for people to social distance to try to slow the rate of infection, give hospitals time to prepare and protect vulnerable populations.
On March 25, Evers directed the Department of Health Services to institute a "safer-at-home order." This commanded people to avoid leaving their homes as much as possible, unless necessary and forced many businesses to close.
Grocery stores, pharmacies, and restaurants able to deliver or with curbside pick-up were some of the businesses allowed to remain open. Taking as many health precautions as possible, with many employees wearing masks and gloves.
However, places with inevitable contact like hair salons, gyms, bowling alleys and other places that sold non-essential goods, were deemed non-essential businesses and therefore were forced to close.
With so many places undergoing temporary closures or shortening their hours, it led to uncertainty and an increase in unemployment claims filed.
In fact, as of May 4, more than 500,000 people have filed for unemployment in Wisconsin, according to The Milwaukee Journal-Sentinel.
While this first order was planned to come to a conclusion on April 24, the number of people infected with COVID-19 continued to increase. And before things were able to open again, Evers decided to extend the order to May 26. As of May 4, there were more than 8,000 confirmed cases in the state.
This urged people to continue practicing social distancing and those businesses to remain closed – meaning that a lot of people in Wisconsin will be unable to return to their jobs until the renewed order is lifted.
Anxiety and frustration brewed. Desperate to return to their jobs, some people in Wisconsin organized a protest for April 24. It was referred to in social media as the "Open Wisconsin Now" protest, and an estimated 1,500 people attended.
The state Capitol in downtown Madison was swarmed with people biking, children and adults that congregated around the entire block. People without masks and signs that read, "Faith over Fear," "All your servants have become your masters" and "Say 'no' to medical tyranny."
While a lot of the signs were related to COVID-19, the protest looked like a political rally.
Many protestors brought U.S. flags, Tea Party flags and Donald Trump campaign regalia, some even proudly displayed their assault rifles.
A few stood at top of the capitol stairs on the corner of West Mifflin Street and State Street. They lead the protest through their speeches. Among the speakers was a member of the Wisconsin State Sen. Kathy Bernier from Chippewa Falls.
Bernier gave a brief speech where she introduced the Back to Business Plan, plan she said could help business re-open safely. "If the governor knows what's good for him, he will back the Back to Business plan," she said.
Just two blocks away from the protest was, Marcel Bogucki Villavicencio, a student at the University of Wisconsin whose work has also closed. Bogucki Villavicencio was not in favor of the protests and said the march was an example of lack of understanding.
Bogucki Villavicencio could hear the protest from his front porch. He said the protest seemed to be "more about American individualism and how Americans aren't good at collective responsibility. So, that's what this is about. Staying in a lockdown is a collective responsibility."
Wisconsin is not the only state to have an order that restricts business and encourages people to stay at home. According to the New York Times, 42 states are undergoing some sort of stay-at-home guideline.
States like New York, California, Texas and Michigan are some of the most affected. These states are experiencing the greatest number of people diagnosed with COVID-19 as well as some of the highest subsequent deaths.
As of May 6, Wisconsin reported 8,901 confirmed cases of COVID-19 resulting in at least 362 deaths. Nationally, there were 1,214,572 confirmed cases and 71,982 deaths. Researchers are predicting the national death toll will exceed 130,00 by Aug. 1.