Culinary arts student follows many paths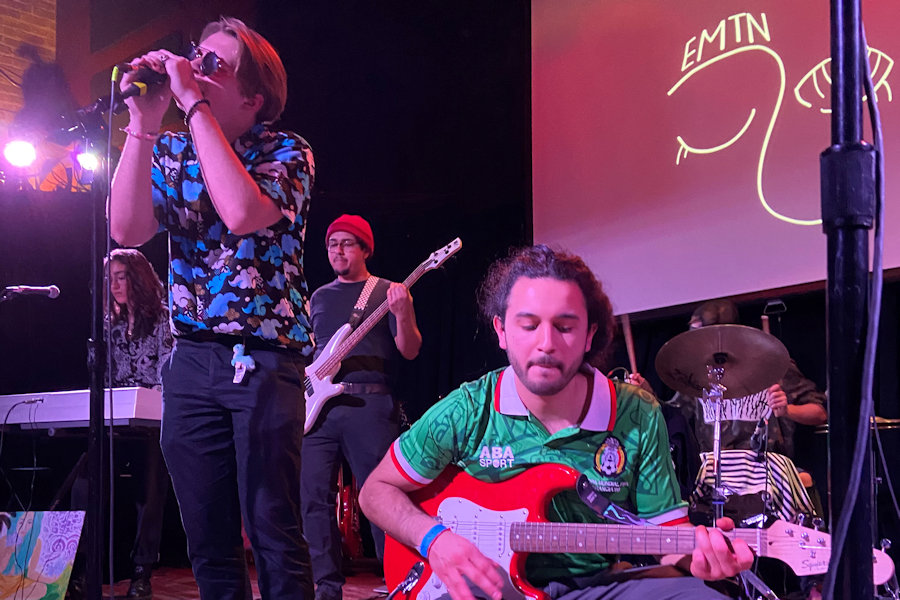 "What do you want to do when you grow up?" the question that we have been asked since before we even learned to write it. The buildup pressure of growing up and figuring out what and how we will contribute to the world.
Madison College student Francisco Perez has found more freedom to that question. From music, culinary arts, or language, Perez makes time for it all.
"I think I like culminations of peoples identity and creativity." Perez begins, explaining his fascination for music a hobby he has become familiar with now.
As a younger kid, Perez would play music with his friend, Henri. Now they are both part of a band called EMTN.
Perez debuted in EMTN at the venue High Noon Saloon in Madison last winter.
Performing, and the nerves that come with it, have become his favorite parts of being in a band. It was his creative relationship with music that made him want to find out more about the composition side of it.
"I just feel like music is just something that is so different for everybody. Everybody identifies with a different type of music and it is something that people hold so closely. I'm no exception so I wanted to learn how to make music."
Although unsure of where this part of his life will lead to, Perez expresses he is enjoying what it is now.
Last semester, Perez was enrolled mostly in general education classes that earned him credit for the Liberal Arts Transfer program. At this time Perez was considering studying language.
Perez, a native Spanish speaker, explains, "I mean, it's been my whole life really. I've always been around a lot of different languages." His love of languages goes back to when he was in fourth grade and his sister started learning French in school.
Although Perez thinks of language as something that will always remain an interest, he is choosing to go back to something he has tried before, culinary arts.
Back when Perez was 16 years old, he was working at Salvatore's Tomato Pies. This first job in the kitchen gave him a glance from behind the scenes and a deeper curiosity when he witnessed some unconventional dishes being made.
For a Halloween special, Salvatore's Tomato Pies decided to feature a pumpkin based dough, dyed black in squid ink.
"I was just mind blown and I thought, 'Wow. I wonder what else you can do with food?'" A question, this pursuit in culinary arts continues to unravel.
Last winter break, Perez visited an indigenous food summit in Michigan where a botanist led him and a group of people through a forest.
As he walked along the path, Perez was surrounded by what he originally classified as trees, plants, soil and nature. This changed when the botanist would point out plants by name, and what medicinal and or edible qualities it possessed. Uncovering that he was surrounded by earth's own kitchen and some of its at-home-remedies.
"I think a lot of people have these schemas, these boxes that – 'oh that's medicine and that's food and that's a plant.' You know? Like they're all different things, but they're all essentially the same thing. Food can be medicine and plants can be food," he said.
Not only was this a catalyst to Perez's return to culinary. It is something he hopes will help him create his own dishes in the future.
The biggest struggles Perez has run into are the more ordinary classes that aren't taught the way he learns. Perez names accounting amongst one of the classes he's found challenging to find motivating. Still, he finds positivity in knowing these required classes, although slightly removed from being in a kitchen, bring him new knowledge that could be useful in the future.
"When I think about culinary class, that's not what I think about, you know? I think about making food. Not accounting, but you still have to know it," he said.
Many things seem to find a way to continue inspiring Perez. Born in the United States to Mexican parents, Perez treasures his traditions.
"The culinary traditions of Monterrey and my grandmas from Michoacán, so Michoacán inspire me," he said.
Although Perez started his journey at Madison College in the culinary department, like many journeys, his has not been linear.
However, he has proven that exploring beyond academia and our perceptions of ourselves can lead to uncovering new passions. That we can like and follow dreams outside of school.