College responds to COVID-19 crisis
Classes moved online, buildings closed through May 15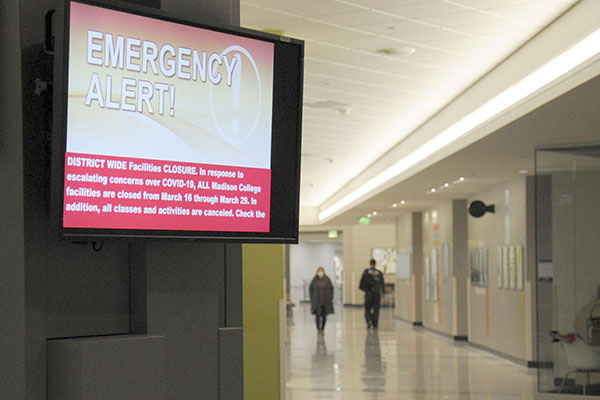 Tessa Morhardt & Andrew Kicmol, Editor in Chief & Editor emeritus
March 25, 2020
It's been a turbulent few weeks for students, staff and faculty alike, as the situation worsened with COVID-19.
It started with the cancellation of spring break study abroad trips to Italy and London, England, and having spring break extended until March 29.
In the past week, it has culminated with the difficult decision to close all campus facilities until May 15 and moving all instruction online.
Madison College officials have said they are trying to best ensure that students, staff and faculty stay safe and healthy.
This means all classes will meet online through the remainder of the semester. Originally, staff and faculty were going to be allowed to operate from inside the college, but now all facilities district wide will be closed and staff and faculty are required to work from home.
Throughout the process, Madison College officials have stayed in contact with all of the staff and students to make sure that they know what plans are being made and what is to be expected.
Madison College President Dr. Jack Daniels III shared his thought on the challenges COVID-19 poses in a statement posted on the college's website.
"This is an unprecedented time and we continue to put the safety of the entire Madison College community in the forefront of all of our decisions," Daniels said.
"The college remains committed now more than ever to our mission of offering high quality, accessible education to our community. We continue to work together to help our students reach their personal and academic goals and also support our employees, who in turn are committed to supporting our students, through this challenging time."
Not only has Madison College closed down their buildings but have suspended all of the athletic team seasons, events, and traveling. Madison College is trying to do its best to make sure COVID-19 does not spread.
As the situation with COVID-19 continues to evolve, Daniels encourages students and staff to watch for additional communication from the college.
"Together we are facing many unknowns, disappointments and frustrations. The patience and understanding you have all shown is truly remarkable and our mission to serve our students and community is stronger than ever," Daniels said.
"We will continue to communicate with you. Watch your campus email, visit our website pages devoted to COVID-19 updates or follow news updates we provide on our official Twitter, Instagram and Facebook accounts."
With all of these changes that are being made, Madison College's only thing in mind is the safety of everyone in Madison. There are many resources out there to help show you how to prevent getting COVID-19, how you are able to help others who are more at risk.
You are able to find helpful resources online at:
https://www.cdc.gov/coronavirus/2019-ncov/prepare/get-your-household-ready-for-COVID-19.html
https://www.idsociety.org/public-health/COVID-19-Resource-Center/
https://www.uwhealth.org/covid-19/covid-19/53246