'Madison College Talks' a powerful series
Next series event will feature Bobby Seale, co-founder of the Black Panther Party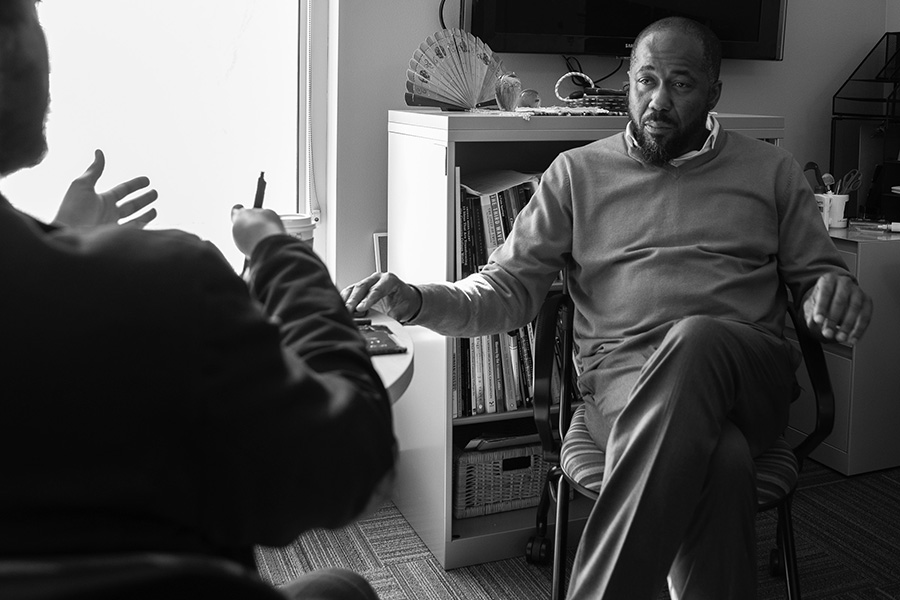 Shia Aaron L Fisher, Contributor
February 20, 2020
The Equity, Inclusion and Community Engagement department at Madison College has been busy organizing events and programs for community members and Madison College students.
Jimmy Cheffen Jr. is the Climate & Culture Program Coordinator for the department and works closely with Vice President, Lucia Nuñez, organizing programs and events.
To address the campus climate experience the department has produced a speaking series called "Madison College Talks."
"It is one of the priorities of Dr. Jack Daniels," says Cheffen, "his priority was equity, inclusion and diversity and he understands the importance of underrepresented groups at the college."
Madison College President Dr. Jack Daniels III advanced the creation of the Equity, Inclusion Department a few short years ago, according to Cheffen.
"We've done a lot of things. We created a Men of Excellence plan that focuses on African American Males, Latino Males," says Cheffen.
Collaborating with community partners, non-profit organizations and the Wisconsin Department of Instruction, the Madison College Equity, Inclusion department has organized events featuring civil leaders and public figures.
"We invite well known speakers to set the stage and we create experiences around it to have discussion about certain issues," says Cheffen.
Cheffen continues by sharing an example "when we had Yusef Salaam, [we talked about] prison, incarceration of black males and police brutality."
Yusef Salaam, who is a criminal justice activist and author, shared his story at Madison College's Truax Campus in November of 2019, in the Mitby Theater.
"It opens a way for us to have those types of conversation and to collaborate with other organizations, non-profit organizations like Nehemiah, [the] YWCA," said Cheffen.
Cheffen maintains that it is important to continue to have speaker events like the one featuring Yusef Salaam, while the department is its infancy. "For Bobby Seale, we're collaborating with the NAACP, the City of Madison and Dane County.
We've been known to work with the Black Educator's Network and the Department of Instruction," said Cheffen, as well as, "the African Association of Madison, the Muslim Association and the Chamber of Commerce."
"When we do something like this, we not only bring the speakers in, we always have other activities," said Cheffen.
In addition to the "Madison College Talks," speaking series, is a book club and a film circle, that helps promote group discussions on topics pertaining to equity and inclusion.
"All of our events are open to the public…we think it is important for us to have these discussions and we try to create a space where we can have these discussions," said Cheffen.
On Tuesday, Feb. 25, 2020, co-founder of the Black Panther Party, Bobby Seale, will speak at Madison College Truax Campus in the Mitby Theater beginning at 6 p.m.
"We read his [Bobby Seale] book, 'Seize the Time,' and from there, we kind of deconstructed his whole narrative and we create it again…we explore it, [we] make sense of it in today's time. We can see the issues that were going on back then," Cheffen contends, "we still have some of those same issues today. Especially when we talk about, food and security, police brutality, or even access to education, or activism in our youth."
Bobby Seale is scheduled to appear on Madison College grounds throughout the week of Feb. 24 with commitments in the Intercultural Exchange space at the Madison College Truax campus.
When asked what students can learn by attending one of these events, Cheffen said, "I think people are going to reflect on the significance on the Black Panther Party…we're helping to explore the story and then ask questions."
Cheffen ended by saying, "we do this kind of stuff all year round, [inviting] African American, Latino speakers, really we want people to explore these narratives all year round."