Celebrating Goodman South
Hundreds visit new campus, join in the dedication festivities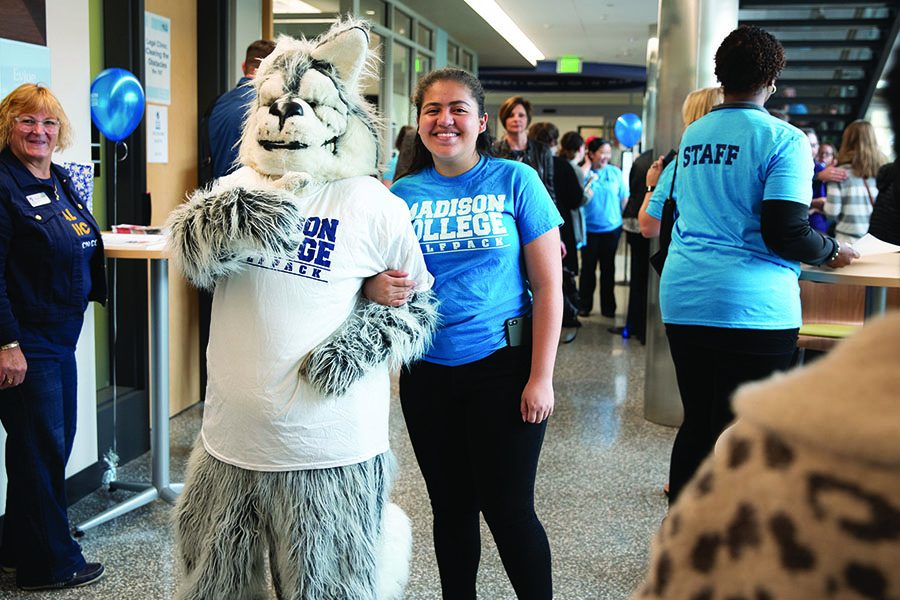 After years of planning and hard work, it's now up and running. On Sept. 28, Madison College welcomed the community to Goodman South Campus for the official grand opening of the building.
The Ho-Chunk Nation blessed the grounds and a number of local dignitaries spoke leading up to the cutting of the ribbon. Students and faculty mingled with members of the South Madison community throughout the day, as nearly 400 people attended the event.
Tours were held before the event to show the hard work that was put into the architecture and design.
Many technical colleges have a limited budget for renovations and expansions, and Madison College is no exception. The Goodman South Campus was built mainly on donations.
The lead donors were Ascendium, which provided $10.2 million; the Irwin A. and Robert Goodman Foundation, which provided $10 million, and the American Family Insurance Dreams Foundation, which provided $1.3 million. At the ceremony, the lead donors were represented by Richard G. George, Chairman, President and CEO of Ascendium Education Group and Telisa Yancy, Chief Operating Officer – American Family Insurance.
Without the involvement of multiple sponsors, the new building would have been about half as large, and without some of the design touches that have come to characterize new Madison College constructions.
Having Goodman South open for class represents a lot to the neighborhood it inhabits. The 2429 Perry Street building will service more of the Madison community than Madison College could previously, meaning a whole new population will have access to go to school. Being across from the bus transit and having a closer location on the south side are both beneficial factors for those who live in or near that area.
Madison College President Dr. Jack Daniel's III states that having this building open is, "fantastic. It's awesome." When speaking on the new campus, it's clear the school's unique position is on his mind: "we are here to serve the community."
Attendees of the event enjoyed refreshments, while enjoying a few words from featured speakers. Among those to speak were the President of the Wisconsin Technical College System, a representative from the Madison Metro School District, and Wisconsin Lieutenant Governor Mandela Barnes.
In addition, representatives from Madison's minority populations shared their perspective. The designers of Goodman South have made a point to include elements of diverse culture throughout the building, including installations from local Black, Latino, Hmong and Native American artists. The speakers on Saturday talked of the impact the new campus will have on their communities.
While the Grand Opening was focused mostly on the accomplishments of today, attendees were also encouraged to look to the future. People wrote notes to be enclosed in a time capsule, to be opened and read no sooner than the year 2069. By that time, the Goodman South Campus will celebrate its 50th birthday.