Collaboration with food bank creates pantry on campus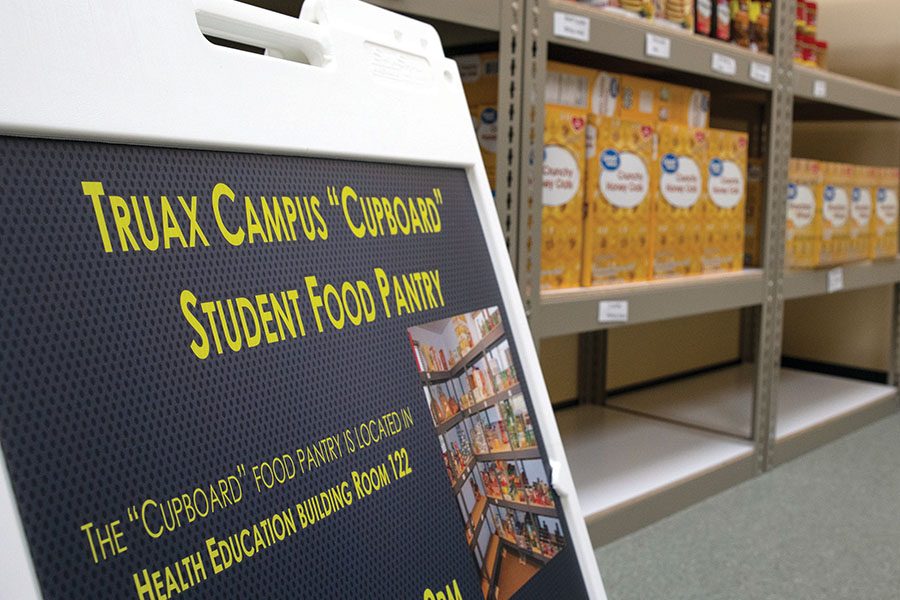 Did you know that a third of Madison College students have skipped meals because they didn't have enough money for food? Student hunger was brought to light with the Student Senate's hunger survey in 2017 and now the school is doing something big about it. Madison College established an on-campus food pantry called the Cupboard.
The Cupboard will be in Room 122 of the Health Education building at Truax that will be monitored by a student worker. The Cupboard will provide up to 10 pounds of food per week to any Madison College student who is currently enrolled in at least one degree credit. In addition, the Cupboard provides information about other pantries in the area, nutritional guides and recipes.
Thanks to our sponsor Second Harvest, the Cupboard is able to stock 12,000 to 15,000 pounds of nonperishable food to give to our students. There is a variety of foods such as soups, pastas, peanut butter and tuna to ensure a balanced diet. The Cupboard provides paper and reusable bags to carry your food in.
"We want to make sure we're nutritional balanced, something that provides more substance for the students," said Mark Lausch, associate vice president of Institutional Learning and Effectiveness. Lausch overseas the program along with Denise Holin, Student Health educator.
Lausch emphasized the importance of providing nutritional meals over quick sugar rushes because some students "may not be eating again for another two meals or two days even" and need "nutritional balance to have the energy to go through the rest of the day."
The first-time students enter the Cupboard, they will be asked to provide their OneCard and complete a brief survey that is required by the Cupboard's sponsor Second Harvest Food Bank. The survey is a one-time form that will assist Second Harvest in planning future food security initiatives for college students in south central Wisconsin. On following visits, students will only be asked to provide their OneCard before getting food.
The official opening will be Tuesday, Sept. 24, and will be open every Tuesday from noon to 2 p.m. and Wednesday from 9 a.m. to 11 a.m. However, students can start going to the Cupboard as early as Sept. 17, though it won't be fully stocked at that time. As more students apply for work study or volunteer there, the hours will increase.
Students are welcome to come as many times as they need throughout the year but are encouraged to seek out more sustainable food services from other pantries such as Second Harvest's food share.
The Cupboard is "the foot in the door for students. The first place where they can get information on where else they can get resources from in the area where they live or work," Lausch explained.
In the future, Lausch wants to expand food options to perishable foods like milk and expand to regional and other Madison locations.
"We'll get all the campuses covered [with a pantry] between now and spring of 2021," Lausch explained.
Starting in the spring of 2020, each semester for the next three semesters the school will put a mini version of the Cupboard, called the Cupboard Extension, in the northern and eastern campuses. In fall of 2020 the school will put another one in either Commercial Avenue or the other two northern and eastern campuses. The next Cupboard expansion is set for the Goodman South campus in late September of this year.
"The ultimate goal of all of this is that students stay in school," Lausch said. He goes on to explain that "we have a lot of students who are taking care of kids, parents or spouses who can no longer work."
Often students are going without eating because they need to spend their money on other things like tuition, gas and family. The Cupboard is meant to remove the barrier of worrying about food from students' lives.
"I think we can do it; it just takes time to ease the stigma of going to a food pantry. We want there to be no pressure or stigma, and just really serve the students," Lausch concluded.
Students and staff can get involved in different ways. If students want to get involved in working in the pantry, they can contact the career center or volunteer there through the volunteer center.
In addition, students and staff can donate food and contribute to student org/staff food drives that will go to the food shelves found in the Automotive wing of Truax and at each regional campus. The food shelves are separate from the Cupboard and are donation based, open seven days a week and are unmonitored.