PUBLIC SAFETY
Public Safety Officers respond to many calls for service and we communicate our activities to the college community. Here are some of our recent notable incidents:
On Sept. 19, there was an active shooter at a business in Middleton on Deming Way. Public Safety coordinated with Dane County 911 and responded to the West Campus as a building lockdown was in place until the incident was contained. WolfPack Alert messages were sent to the campus community to avoid the affected area.
In the evening of Sept. 19, Public Safety took a domestic violence complaint that occurred on campus the previous night, Sept. 18. Both parties have been identified. If you or someone you know are a victim of domestic violence, please call Public Safety or your local police department. Help is available.
On the morning of Sept. 20, Public Safety received a complaint of a possible intoxicated driver who was driving on sidewalks in the student parking lot areas. The suspect was identified and apprehended by Public Safety and the Madison Police.
On Sept. 25, Public Safety responded to an unconscious man in a bathroom stall at Truax. The man, who is not a Madison College student, was intoxicated and had an active warrant for his arrest. The Madison Police then arrived and took the man into custody.
On Sept. 26, Public Safety received a theft complaint from the Downtown Campus. A woman left her cell phone on a table nearby where it was then stolen. No suspects have been identified at this time.
On Oct. 2, officers patrolling the student parking lots at Truax observed suspicious activity between a male and female in which they ran and left behind contents of a purse. Officers apprehended the two at the Goodman Sports Complex and found that they had stolen a wallet out of a student's vehicle. The two suspects are not students at Madison College and were taken into custody by the Madison Police.
On Oct. 2, Officers responded to another domestic violence complaint near the Anderson Street entrances at Truax. Both suspect and victim had left campus prior to officer arrival but have been identified. There is now an active warrant for the arrest of the suspect.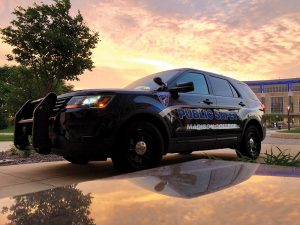 Public Safety Update
If you or someone you know are a victim of domestic violence, Public Safety are here to help. Officers can direct victims to the most appropriate resources they may need.
The following tips are strongly encouraged for victims of domestic violence:
• Find a safe place to go and call 9-1-1 to report any subsequent incidents, threats or injuries.
• Officers can aid you in finding proper medical attention and connect you with additional resources such as shelters, where a trained professional will form a safety plan with you.
• If you have children, they too can be provided shelter with you.
• Consider filing a protection order against your abuser. Law enforcement can explain this process to you.
• If you choose to file, keep your protective order with you at all times.
• Consider contacting Domestic Abuse Intervention Services (DAIS) for additional help.
WolfPack Alerts
Have you signed up to receive WolfPack Alerts from Madison College? Wolfpack Alerts will notify you of potentially threatening emergencies on or nearby campus as well as emergency weather alerts as they occur. If not, please do so on our webpage.
For the fastest up-to-date emergency related news, sign up for WolfPack Alerts. Registration is free, easy and takes about a minute on your mobile device. WolfPack Alerts enable Madison College students, faculty and staff to receive messages on their mobile devices and via Madison College email.
In addition to our Facebook page, we have a Twitter account! Be sure to follow @PublicSafetyMC to stay informed of what's happening on your campus.
If you witness suspicious activity, need to report a crime, need to report an emergency or have other campus safety concerns, please contact our department at 245-2222; Public Safety Officers are available 24/7.