New advisor connects students with volunteer opportunities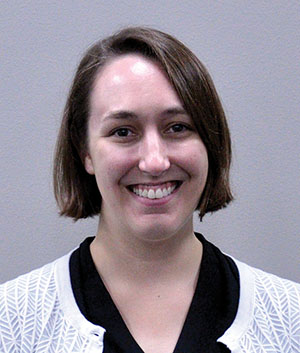 As the fall semester begins to take shape for students, many begin to find a bit of spare time as they settle into a routine. Thankfully, Madison College has countless of extracurricular opportunities for students.
One of these opportunities is a perfect mixture of all others; meeting new people, personal fulfillment and enjoyment, and building a résumé. This is where Brianna Stapleton-Welch, the Volunteer Center advisor at Madison College, is here to help.
Stapleton-Welch has had a fondness for volunteering in her community since her own time in college. She attended Lawrence University where she studied theatre. Volunteer Center Advisor may — at first glance — seem a strange role for someone involved in the performing arts, however she explains that it's not much of a stretch for her at all. "In reality, theatre is about communication and how you engage people, so I still use those skills every day."
Stapleton-Welch's earlier experiences in higher education and volunteering led her to where she is today. Through working with the community during her time in college, she learned a lot about herself. "Because I was focused on both the arts and education, I did a lot of work in local schools. I loved that, and it told me that what I wanted to do was work with young people," said Stapleton-Welch.
She has always been intrigued by the connection between volunteerism and student life, and believes that it can be a really important way for a student to be connected to their college and community. These opportunities give a special sort of fulfillment, something that is much more personal than simply living in a community.
"It is easy to get focused on going to class and going to work, while not feeling connected with the community. That is one of the things I find valuable about volunteering, and that is something that can really build upon the college experience," says Stapleton-Welch.
One way students can connect to the Volunteer Center is by dropping into the monthly meetings. The meetings take place on the first Tuesday of each month at 11:30 a.m., and are a great opportunity for students without the need to commit too much time. All students are welcome.
Although she is busy with her role at the college, she is still able to volunteer her own time to help her new community here in Madison and the greater Dane County area.
"Meeting new people and supporting the community at the same time is fun for me, and I learn a lot with each new experience," says Stapleton-Welch.
She has lived in the Stoughton area for about a year and a half now, moving from the North of Milwaukee to be closer to family. Outside of her busy schedule at Madison College, she enjoys reading and sewing.