Creating tiny homes gives students a taste of eco-friendly construction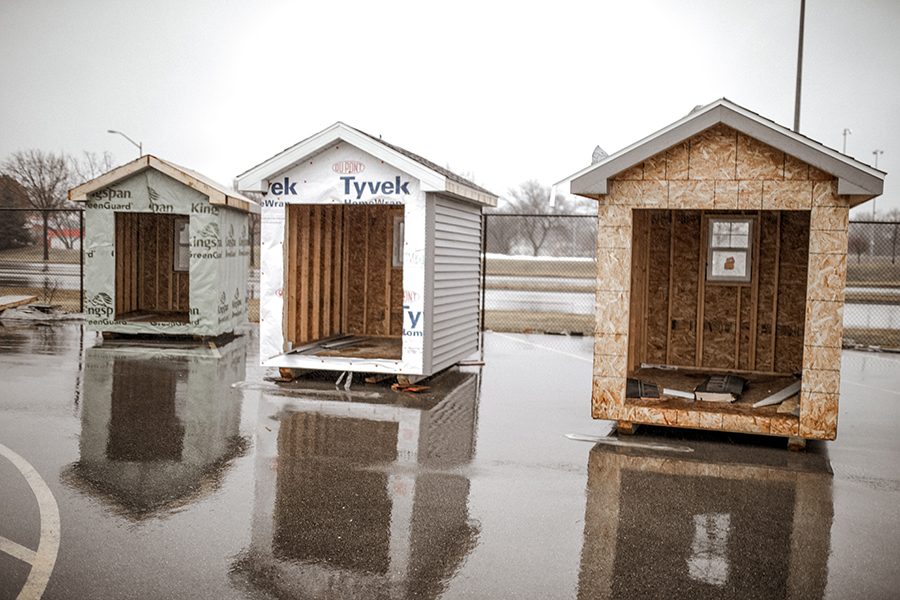 Jessica Deegan, News Editor
January 30, 2018
While driving past Madison College's Commercial Avenue campus, one might see the exceptionally small homes that sit near the roadway. These tiny homes are a part of Madison College's Construction and Remodeling program and are referred to as a "first-of-its-kind building project."
This new project began when a large parcel of land sat vacant behind Olbrich Gardens for many years. The city began accepting proposals as to what should be done with this vacant land, and among many others, one in particular, stood out. A company out of Chicago plans to make this land into a restaurant/brewery alongside of 50 tiny homes that will be showcased on the land.
"It's great for us because tiny homes are a great project and we can get them done here," said Construction and Remodeling Co-Program Director, John Stephany.
While other companies are also participating in the tiny home build, the developers are hoping to eventually rotate their stock and will take as many homes as Madison College wants to build.
These homes will give people an idea of what living in a 180-500 square foot house would be like. People can even stay in the homes for a couple nights if they want to try out "tiny home living." Homes may be purchased from the lot if people find that this type of living is a fit for them. To make tiny house living even better, these homes are designed to withstand any type of weather, all while being eco-friendly.
"One of our biggest challenges right now, globally, is the fossil fuel use. The biggest…easiest thing to knock off is energy, and so we focus on that," making all of the homes built "net-zero ready." This means that the homes are "built so energy efficient and so air tight that you can put a solar panel ray on the roof and it would provide enough energy that the house uses. We also use Green Building Techniques, so we are using less lumber and many different aspects in Green Construction is involved."
Although the Construction and Remodeling program has been building tiny homes for quite some time, this new partnership has students holding their heads high with pride.
"They love the fact that they actually have a real project that is going to be lived-in and used," said Stephany. He also believes the tiny home project may be a good "eye-popping" experience to include on resumes when going into the field.
Stephany grins and says, "My students can stand there and say 'I built that shed,' and put their names on it – there is pride there, but it's also an accomplishment thinking back at the end of the day and knowing that it's going to be there for a long time."