Giving hunger a face
Steven Ansorge wears his Student Senate badge proudly every Friday evening when he visits the River Food Pantry, not only as a volunteer, but as a patron.
As a student leader who directly represents the over 30 percent of Madison College students who experience food insecurity, Ansorge wants to give hunger not only a voice, but a face.
"When I wear my badge when I'm getting food, I feel like it's saying even hard working people, even leaders in your community, need help," explained Ansorge.
By wearing his badge at the food pantry, Ansorge hopes to show people that they do not need to be ashamed to receive the resources they need to not be hungry.
Charles McLimans, the executive director of the River Food Pantry describes being food insecure as when "you do not have the means to provide three meals a day for you, and your family, and that your missing meals."
About one out of three Madison College students miss meals during the month because they do not have the resources to afford them. For college students, a lack of food is not only harmful to their bodies, but harmful to their studies.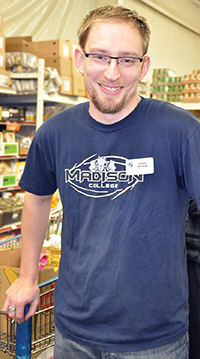 "I received an email at the beginning of the semester from a student asking 'How can I get food from you? I'm finding that I am spending more time looking around campus for events with free food than spending on my studies'," said McLimans.
Ansorge has personal experience with hunger affecting his studies, as well.
"Sometimes when I'm in class I get hungry, because I didn't either have enough time or money to make food in the morning, and I'm distracted during class by my hunger pains," Ansorge explains. "It distracts me from my classwork."
Though many people experience hardships from their food insecurity, they often do not get the help they need because talking openly about being hungry can be very challenging.
"Some people have a stigma about receiving food or asking for help," McLimans explains.
Though Ansorge is open about his own food insecurity, he understands why it is so hard for many to talk about it.
"The reason why I think we don't want to talk about it is people are ashamed that they are in such an insecure situation. Maybe they don't think they are good enough," said Ansorge. "We have such culture of 'you need to pull yourself up by your bootstraps' that if you can't figure it out or do it all on your own, that you're shamed for it, and I think that's part of the problem."
At first, Ansorge was also insecure about his hunger status. "Right at the beginning, I felt kind of ashamed," Ansorge explained.
However, after Ansorge experienced what the people who utilized support from food pantries were actually like, his feelings about asking for help began to change.
"Learning that these people are just like me, that there's actually people struggling not because their lazy, but just because they have a hard situation … I started opening up because there are other people out there. I'm not alone."
Ansorge wants to continue to start open conversations about hunger to help others to feel more comfortable asking for help, as well as spread awareness for the resources in the community for people with food insecurity.
River Food Pantry, the pantry that Ansorge attends and volunteers at, is one of the more accessible resources for food insecure students. Madison College's east shuttle will drop people off at the pantry at request, and the pantry will provide transportation back to the Truax campus on Friday evenings.
McLimans explains that he wants Madison College students to know that "The River is here for you, we're your neighbor."
Students who want to make a difference for people with food insecurity in Madison are also invited to volunteer at River Food Pantry. Like Ansorge, many people who utilize the resources of the pantry also volunteer there, as well.
"Our clients are also volunteers. For us, it's not about charity, its's about building a stronger community together," said McLimans.
Though Student Senate is still deciding what solutions would help with hunger on campus, Ansorge wants food insecure students to know: "There are resources out there.
"Don't be ashamed, just look for it. No need to be ashamed of this," he said. "People shouldn't be hungry. Period."