Think green with reusable bag at college bookstore
Hang on for a minute...we're trying to find some more stories you might like.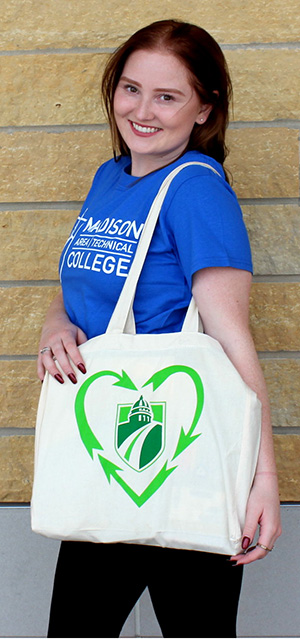 There is currently a gigantic trash heap consisting of primarily plastic floating in the Atlantic Ocean that scientists believe to be twice the size of the continental United States. This island is completely made up of trash, and it can be safely assumed that a good portion of this island is made up of the plastic bags we use daily.
Though recycling can help prevent further tragedies done to our environment, sadly only 1% of plastic bags actually make it to a recycling bin, the remaining 99% are left to decompose in trash piles; a process which can take between 15-1000 years.
Though there are many steps that need to be taken to begin to help preserve our environment, there is one simple step that we can all start taking: using a reusable bag. The power of a reusable bag is something visual marketing student Amy McGregor had in mind when designing her new bag that is now being sold in Madison College's own bookstore.
What was originally a fall semester final project has now just become a reality for McGregor. As a way to promote green living, McGregor wanted to develop and design a bag that would inspire Madison College students to think green, and take a step to help save the environment.
This is more than a reusable bag for McGregor, but a passion project. As a mother, McGregor is concerned about the world that is being left to her child. McGregor said that she is "passionate about keeping the world green for my child and future generations."
Not only does McGregor's project demonstrate how Madison College students can work to make the world a better place, but she also demonstrates the power of building relationships within the Madison College community. Though McGregor was the designer of the bag, she didn't go about the production alone. She was able to get help from screen printing students to help print the bags, and was able gain support from the faculty of the bookstore to help her sell her bags on a larger scale than she would be able to on her own. She really proves the power of nurturing our local Madison College relationships in order to help a vision become a reality.
The reusable bag sells for $15.95, and can be spotted in the window of the Truax bookstore, and can be bought within. Not only does the price get you a beautiful reusable bag, but starting May 2, purchasers of the bag will also receive a specific blue Madison College t-shirt with their bag.