Campus shuttle to add stops at The River Food Pantry
In an effort to help Madison College students who struggle to afford groceries the Student Senate is directing fellow students to The River Food Pantry. It is located in a warehouse only two miles from Madison College near the Dane County Airport at 2201 Darwin Road.
The River Food Pantry was founded in 2006 by former Madison College faculty member Andy Czerkas and his partner Jenny Czerkas. The Czerkas have been awarded the prestigious Jacqueline Kennedy Onassis Award, the nation's highest honor for public service, in recognition of their selfless dedication to enriching the community along with numerous local awards.
As a result of their efforts, The River as it is has become fondly known, is Dane County's busiest pantry. Serving about 600 families and individuals per week with free groceries, clothing, household items, and help in finding any care they need.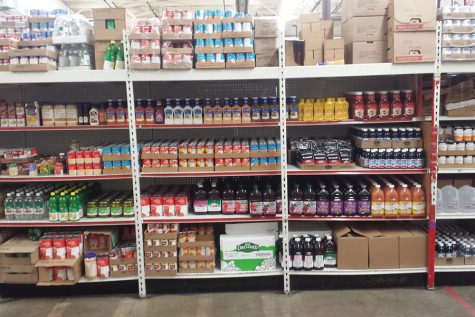 To facilitate ease of access to The River the Student Senate has entered into an agreement with the East Shuttle service from Truax to make stops at The River Food Pantry during regularly scheduled service on Tuesdays, Thursdays at 4:30 p.m. and 5 p.m., and Fridays at 5 p.m. According to the Student Senate, this is a pilot project. If it works well for students the Senate will look to apply this model to other shuttle routes that would stop at various local food pantries so that students can meet their food needs.
Leaving The River, students can catch a Madison Metro bus, which has four different routes within two blocks of the pantry, or sometimes get a ride back to campus from a volunteer. The pantry often shuttles Madison College student volunteers back to the Truax Campus on Fridays.
The River allows one visit per week. Those who visit on a Friday can enjoy a hot meal accompanied by flowers on the table and occasional live music. The meal is prepared by William Berkan Jr. and a staff of community volunteers that sometimes include students from the Madison College Volunteer Center.
Manager Rhonda Adams explains that The River Food Pantry is operated primarily by volunteers who have donated over 26,000 hours, distributed one million pounds of food, and provided around 13,000 hot meals to our community just last year.
The staff and volunteers at River Food Pantry help provide clothes, household items, fresh vegetables, canned goods, frozen meats, dairy, and delicious desserts to those in need. As such, The River is a community asset to be utilized by any student in need.