Meet Madison College Provost Turina Bakken
Turina Bakken became Madison College's new provost in July, following the retirement of Terry Webb, who worked at the college for 17 years.
Although she has worked at Madison College since 1998 and has been a long-time resident of the state, many may not know that Bakken is originally from the Moorhead, Minnesota-Fargo, North Dakota area.
Bakken said she holds onto the idea of "Minnesota nice" but she is, to clarify, a Badger, WolfPack and Packer fan.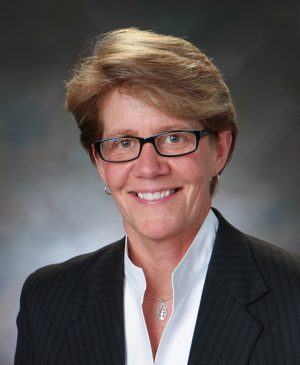 In reflecting on her new role as provost, Bakken recalled that when she was younger, she wanted to be a crane driver and set out to do some good in the world. She never really dreamed of becoming a college administrator, but from business, to faculty, to higher education leadership, that is where her career path has taken her.
It might not be what she expected, but she is grateful for how it all worked out. And, she says she couldn't think of a better place to be than Madison College.
Bakken has undergraduate degrees in marketing and French, an MBA and a Ph.D. in Educational Leadership and Policy Analysis – all from UW-Madison.
In her free time, she enjoys any type of outdoor activity including hiking and golf, does color commentary for UW Women's hockey television broadcasts, and loves to travel anywhere and spend time with family and friends.
She lives in DeForest with her partner of 25 years, Marcia Christiansen, and her puppy, Juno.
At Madison College she oversees all six of the academic schools plus continuing education, Center for Excellence in Teaching and Learning, Workforce and Economic Development, academic strategy and analysis team, and the University Partnership Center.
Bakken said Madison College is a wonderful place to work. She said she hasn't had a bad day at work thanks to the amazing students and staff, but she also thinks she has many things to learn.
One of her primary focus areas is to infuse entrepreneurial thinking and doing in our school strategies and operations. She also believes in utilizing people's strengths and talents to have them add value in whatever way possible.
Bakken also sees keeping connected to our community as a key. She serves on four boards and is a member of a few other community organizations. Through these relationships, she can help forge new partnerships and come up with new collaborative ways to serve our students.
However, in the meantime, she plans to work every day to make Madison College a national model of excellence in just about everything.