Project 1808 empowers the youth of Kabala
Alhaji Njai grew up in a small, rural village called Kabala, in Koinadugu District, Sierra Leone, to a Guinean mother and a Senegalese father. He left his home country in the middle of the brutal, 12-year-long civil war to pursue higher education in the United States, never failing to remember his roots and giving back in any way that he could.
During the last several years in Madison, Njai has created Project 1808, a community-based, non-profit organization dedicated to empowering the youth of Kabala through focus on education and leadership programs and he owes his inspiration to both his Islamic upbringing and his father.
"In my upbringing, my family was very Islamic and very religious with the idea of helping and giving to those who cannot afford fundamental (living) tools," Njai explained. "My father was an inspiration because he supported communities in Sierra Leone, and was always helping others. This project has always been inside me in some ways."
Despite Kabala being the largest district in Sierra Leone, Njai described it as being the least developed in the country. "It has the highest illiteracy rate, highest teenage pregnancy rate, and medical facilities are in poor conditions," he said. "There are two medical doctors for a population of 400,000 people. And the terrain is difficult, with students having to walk 10-15 miles to school." Njai explained that Kabala was far from the city, and that its residents felt neglected.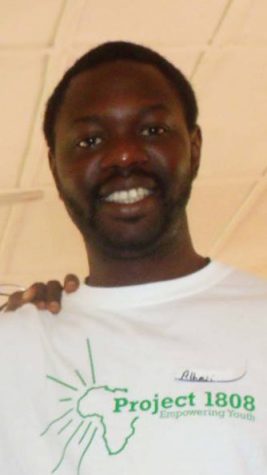 While the violent civil war, lasting from 1991-2002 waged on, with lasting impact on the people of Sierra Leone, Njai would contribute whatever he could to his family and community. It was during his post-doctorates at the University of Wisconsin-Madison that the idea of starting a project that benefitted his home country came about.
"My mentor (at the UW) was like, 'Why not make this endeavor into an organization because you're already doing it already- spending a lot of money, helping a lot of kids… why not make structure around it and create an organization?"
It was then that Alhaji began to design a program that would not only support the youth in Kabala but also encourage participants in his program to return as leaders and support in the same area. He originally wanted to target university students to come up with a specific proposal to implement directly into the community, but after meeting (now- wife) Linda Vakunta on the bus one day, who was then working with the PEOPLE program in Madison, she gave him the idea of taking it down to the primary level.
Upon their first year with their new model, which they've titled "school university community partnership model", they were able to recruit 64 elementary and middle school aged students from Kambala. Project 1808 provided uniforms, textbooks, and recruited five of the best teachers from the area to provide extra lessons to those who were selected for the program.
"We started the program as a way to begin to empower the youth, build capacity in them, and then they could also be the leaders who affected change in the community," Njai described.
The Project has expanded to recruit over 400 students by 2016 and is working on building the first college in Kabala as a resource to the residents.
The basic foundations of the Project were to connecting them with education, build their potential to be very strong individuals, but most importantly to harness that potential to connecting them to their community through ongoing community service projects.
More information, including donating, volunteering, and internship opportunities can be found on their website at www.project1808.org.