Bonding On Ropes Course
The Madison College Challenge Course has a lot to offer to groups both inside and outside Madison College.
There are many different programs for those groups who want to go through the course. Programs range from a thirty minutes up to a full day of six to eight hours.
During the half a day or full day programs groups can chose to do the high or low element training courses. High element courses involve high rope activities. While the low element program includes on the ground team building activities.
The Clarion team took completed a half-day low elements course over the summer.
The team used this course as an opportunity to work on team building, meeting new members and working through challenges together.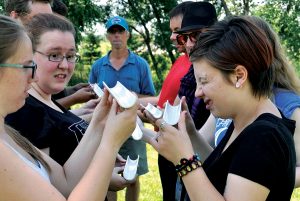 Ground activities included a marble game and stacking milk crates.  The objective of the marble game was to use short segments of PVC pipe to move a marble into a small container on the ground.  The marble was required to touch each team member's pipe, not stop rolling or roll backwards.
The next activity was to stack milk crates as high as we could, but only by placing them under the existing stack.  Safety helmets came out, as the stack got taller and taller. We eventually got pretty creative with it as well; attempting to use rope to tie them all together without falling.
Then some of our braver members took to the climbing wall.  Donning safety harnesses and helmets we tried to climb as far as we could up the wall. Three of us, Editor in Chief Elliott Puckette, reporter Patrick Kempfer and Illustrator Micheal Edwards successfully reached the top.  On the climbing wall, you need to trust your fellow teammates, they're holding the ropes to help you down.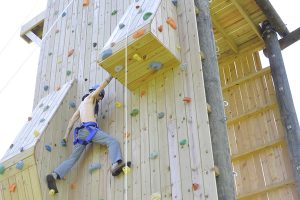 "The Challenge Course was a fun way to get to know the other members of 'The Clarion'," said Josh Zytkiewcz.  "I had no idea our Editor in Chief could climb like a monkey, and that I can't climb at all."
"A moment of symbolic teamwork came at the top of the climbing wall when I had the opportunity to assist my editor in chief over that last rail," said Patrick Kempfer.  "Teamwork man!"
If you are interested in enrolling your group in the Challenge Course visit MadisonCollegeAthletics.com or contact Eric Howden [email protected]