Director of 'Mooz-Lum' Speaks on Campus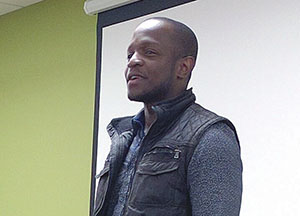 Writer and director Qasim "Q" Basir flew into Madison on March 22, to lead a critical discussion with Madison College students regarding self-discovery, the power of film and narrative, as well as the importance of living an impactful life.
"I make movies because it's my way of speaking to the world," Basir explained during his hour-long discussion.  "This movie is about a Muslim kid but the subject, it speaks on the larger issues that have been plaguing us since the beginning of this country, since we got here.
Madison College's United Common Ground (UCG) student organization hosted a screening of the autobiographical film "Mooz-Lum" to shine light on the islamophobic and racist mindsets apparent across the country.
"It was one of the best events I've gone to in a really long time," said Rogelio Encizo, UCG and Student Support Advisor. "I think the students did a great job in not only picking the movie, but really moving forward on bringing the director here."
"The misspelling of the word Mooz-Lum has to do with the mispronunciation and the misunderstanding of the people," Basir explained.
The movie centered around the life of a Muslim-American named Tariq who is going to college for the first time, with recurring flashbacks of his traumatizing past and strict Islamic upbringing.
Upon arriving to college, Tariq attempts to rid himself of any Islamic connection, even burying ties with his family, due to the strictness of his father and the severe beatings he endured while attending a youth Islamic school with an extremely distraught teacher.
"I've been beaten and criticized trying to believe in this faith," Tariq said at one point in the film, shortly after the 9/11 attacks sent terror throughout Tariq's campus.
"I see this as such an opportunity to say something," Basir said. "No one has seen a large scale film about a Muslim kid in America. But they have seen, over and over again, images on FOX news saying that Muslims equal terrorism.
"With a film, you have the opportunity to present someone in a human way… We see him as a boy that's 12, and he has feelings too, he has pain, he falls in love, he's nervous… that was my original intent, was to create a movie that connected with the human element so that the next time you see someone, maybe in your memory, instead of only this picture you have of this person, you'll have related to that person on an emotional level, in a way that you haven't related to him by seeing some guy who has been arrested by some terrorist on the news."
Basir opened up the discussion by answering questions posed by Madison College students, including what Basirs drive was to make the film, and how to change these perceptions the mainstream media makes of Islam.
"At the root of a lot of this is based on ignorance, and that's where we come in, as citizens of this world and at a day where information is available to all of us within seconds, it's up to us to really begin to understand, rather than these blanket generalizations that we give.
"That's why I'm here, is to have a discussion and to potentially leave here with ideas, with every person here feeling or learning something about how you can contribute. Because we all can contribute.
Basir left the audience in awe with by speaking "in a way that was open, honest, real, and relatable," said Encizo.
"We are all individually and uniquely powerful in our own way. Everyone is not a filmmaker, everyone doesn't make art or song, but we each have something within us that allows us to participate in the larger society where there's this balance… we can tip the balance of the scale so that the society moves forward in a more progressive way. That's what we're up to."
Basir shared the story of what motivated him to begin making movies. He explained that he was in a terrible car accident at the age of 22 that should have left him for dead due to large brain contusions. Upon contemplating his life while healing on a hospital bed, Basir realized that if he had died that day, he would have left the world without making any difference.
"We're not faced with mortality when we're young. We think we're gonna live forever, and death is not a real concept to us but I was fortunate to have been faced with it because it was the single most impactful thing that's ever happened to me…Ask yourself, if you go right now, what would your life have meant? What would you have said to the world?"
"Out of everything we have, physical possessions, what we truly have is our unique individual selves. There is only of you that has ever been and ever will be. And no one's life is exactly like yours, never has and never will be, so what is your life gonna mean? What impact can you make?" He asked the thirty-plus members in attendance.
Basir explains the impact that allowing society to define our individual selves can have on us, and the importance of the struggle of developing our identities throughout our lives.
"One of my greatest journeys was really going in and trying to figure out how to find peace and figure out what I am truly here for. When we're not completely sure with who we are, when we're not as comfortable with it, a lot of times, you'll accept a lot of things that people put upon you. Or you'll  begin to reflect the actions of what those thoughts are because you assume that people think of you in that way.
We have our tribe, our family, our community, and they do their best (to support us), based on where they are. They're like this is who you are and you basically get your identity from them… and you don't need to figure out who you are because society already told you."
"The level of responsibility, especially as black men, that we feel to be a certain way , when we get around certain people, out of fear of judgment or criticism, or even physical violence… that's the treatment we get by becoming our true selves.
It's tough, we have this perception of who we're supposed to be as a man from the time we're 6, they're like be a man, be tough. I was a sensitive, creative kid that had to turn into a tough kid…and once we do become that, then society is afraid of us for it.
This is why I do it, to challenge those perceptions…I feel like this is my part, and my challenge to you guys is… what's your part in all this? If this is what you believe in, if this is how you see it, what's your part?"