Voting 101: What you need to know this year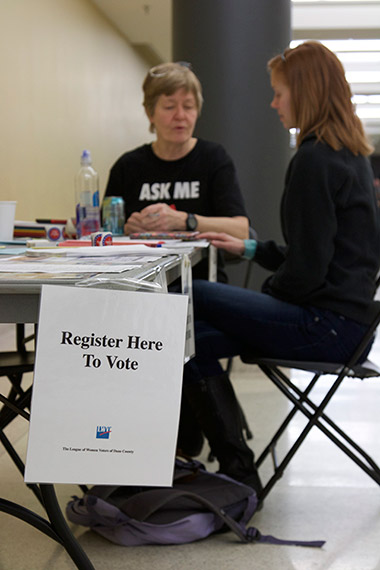 What are your plans for April 5? Hopefully, you will be heading to the polls to cast a vote for the Presidential Preference Primary election.
Going to the polls can be a stressful time especially when it is your first time voting. Being prepared can help prevent a headache on Election Day.
Here are answers to a few of the big questions from State of Wisconsin Government Accountability Board website. The GAB is the government board for elections, campaign finance, ethics and lobbying.
How do I register to vote?
By mail. Up to 20 days before the election. Registration forms should be mailed to your municipal clerk. You can start your voter registration form online at http://myvote.wi.gov. Your form must be printed, signed, and mailed or delivered, to your municipal clerk. You must always provide a proof of residence document when registering. If you are registering by mail, you can use any of the forms of Proof of Residence listed except a residential lease.
By Special Registration Deputy (SRDs). SRDs are trained by some municipalities to collect voter registration forms. Those SRDs must turn in all registration forms by 5 p.m. on the 20th day before the election – so if you haven't done it already it is too late for this election. You must always provide a proof of residence document when registering.
You may register in-person in your municipal clerk's office up until the Friday before the election (in this case April 1) at 5 p.m. or close of business, whichever is later. You must always provide a proof of residence document.
At the polling place on Election Day. You may register at the polls on Election Day. You must always provide a Proof of Residence document when registering.
Where is my polling place?
Go to www.myvote.wi.gov and type in your name and birthdate. It will tell you where to go to vote.
What do I need to bring?
Various forms of identification are accepted. Some can be expired, while others must not be expired. It can be confusing.
With these forms, expired is OK:
A Wisconsin Department of Transportation- issued driver license, even if driving privileges are revoked or suspended.
A state-issued ID card.
A state-issued ID card or driver license without a photo issued under the religious exemption.
Military ID card issued by a U.S. uniformed service.
A U.S. passport.
An identification card issued by a federally recognized Indian tribe in Wisconsin (may be used even if expired before the most recent general election).
These forms of ID, cannot be expired and must adhere to other specifications as well:
A certificate of naturalization that was issued not earlier than two years before the date of an election at which it is presented.
A driving receipt issued by Wisconsin DOT or an identification card receipt issued (both valid for 45 days).
A photo identification card issued by a Wisconsin accredited university, college or technical college that contains date of issuance, signature of student, and an expiration date no later than two years after date of issuance. College ID must be accompanied by a separate document that proves enrollment. (Note: Madison College OneCards will not work because they don't have an expiration date.)
A citation or notice of intent to revoke or suspend a state-issued driver license that is dated within 60 days of the date of the election.
What if I don't have any of these IDs?
Wisconsin does offer a free ID card. To get a free ID card, you will need to take a few documents to your Division of Motor Vehicle office.
There's a long list of documents you can use below, but most people will be fine with a certified birth certificate, a Social Security card and a utility bill or cell phone bill. Just be sure to bring originals — photocopies don't work — and check the box that says, "ID for Free" on your application.
If you have more questions check out www.bringit.gov/how-do-i-get-a-free-id-card
When are the best times to vote?
Polling places are open on Election Day from 7 a.m. to 8 p.m. All eligible voters in line at 8 p.m. get to vote. Early morning is the best times to vote. As the polls get busier as the day goes.