Billionaire playing the Trump card in primary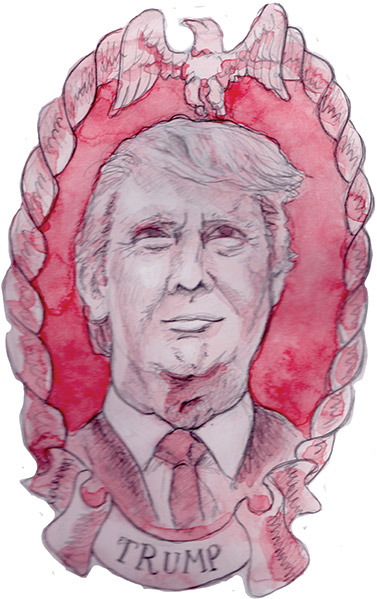 Caroline Faust, Staff Writer
March 23, 2016
Donald Trump is a well-known billionaire, famous for his real estate business, but recently, even more famous for his outrageous statements and controversial stances. He is a bottomless source of media sound bites. Whatever he is doing is working – at least with many republican voters.
But the self-avowed anti-politician has transformed himself from outsider to frontrunner by piling up seven wins across the nation in the republican presidential primaries on March 1, and adding four more wins on March 15.
Many argue that his wins in states that include Alabama. Arkansas, Georgia, Massachusetts, Tennessee, Vermont, Virginia, Florida, Illinois, Montana and North Carolina, show that voters are speaking out and that there is appeal for his anti-establishment movement.
Speaking to reporters at his resort in Palm Beach, Florida, after recent wins, Trump vowed to be a "unifier" and to go after democratic frontrunner Hillary Clinton with a singular focus.
He also seized on the press conference opportunity to take a shot at Wisconsin Senator and Speaker of the House Paul Ryan, saying, " Paul Ryan, I don't know him well, but I'm sure I'm going to get along great with him," Trump said. "And if I don't? He's gonna have to pay a big price, OK?"
Trump was responding to comments Ryan made earlier that day when he said any nominee of the Republican Party should be quick to condemn racist groups, a reference to Trump's refusal to disavow himself from the KKK's David Duke on a weekend news talk program.
Trump promises that "not if, but when elected," he plans to repeal the Affordable Healthcare Act. He also intends to implement a series of reforms that will follow free market principles. Following free market principles and strengthening public policy, he argues on his website www.donaldjtrump.com, "…will broaden healthcare access, make healthcare more affordable and improve the quality of the care available to all Americans."
Many reforms are needed to make this possible and some include; modifying existing laws that prohibit the sale of insurance across state lines creating greater competition which will lower prices overall; allowing individuals to fully deduct premium insurance payments from their taxes; increasing Health Saving Accounts that can accumulate and be passed onto heirs; requiring price transparency from all healthcare providers; removing federal government from Medicaid (let it be monitored by the state); and removing barriers to entry into our market from pharmaceutical companies overseas.
Immigration reform also ranks high on Trump's to-do list if elected. Trump wants to build a wall at the border of Mexico and the United States. On his website, he is clear, "A nation without borders is not a nation."
He also claims that "When Mexico sends its people; they're not sending the best. They're sending people that have lots of problems and they're bringing those problems. They're bringing drugs, they're bringing crime. They're rapists, and some, I assume, are good people, but I speak to border guards and they're telling us what we're getting."
Trump also has called for a ban on Muslims entering the country after a series of terrorist attacks in Paris, France, and San Bernardino, California.
Trump has been called on his flip-flops in policy and personal discussions.
"Look at that face! Would anyone vote for that? Can you imagine that, the face of our next president?" Trump said of opponent Carly Fiorina in a September 2015 interview with Rolling Stone. He later backtracked during the GOP debate saying: "I think she's got a beautiful face. And I think she's a beautiful woman."
He is being sued by former students of Trump University.
Still, Trump continues gaining notoriety for his off-the-cuff and often personally insulting comments against other candidates and members of the media. In one debate, he defended the size of his penis. He is a darling of late night talk show host quotes and Saturday Night Live can't get enough of his character.
Anti-Trump protesters have been removed from his speaking engagements and a protest after he canceled a speech in Illinois turned violent. Some in the Republican Party, such as former presidential candidate Mitt Romney, have disavowed him and threatened a contested republican convention when it meets in July.
Whether Wisconsin voters think Trump's outlandish statements are hindering or helping him will be seen at the polls. Either way, he is staying in the spotlight and confidently says he will not back down.
"I get along with everybody. You get along with nobody," Trump told second place GOP presidential candidate Ted Cruz at a debate in February.