Clarion wins first place at WNA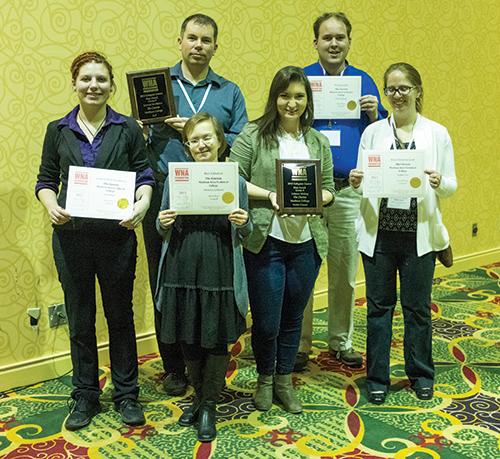 Members of The Clarion staff won seven awards in the Wisconsin College Media Association Better Newspaper Contest. The awards were presented during the Wisconsin Newspaper Association's annual convention and trade show on Feb. 26 at the Madison West Marriott.
The Clarion took first place in general excellence for newspapers and second-place in general web excellence for its web site at www.theonlineclarion.com.
Former editor in chief Natalie Connors took first place in column writing for a column she wrote entitled, "Consent is sexy, abuse isn't."
Robin Gee, who was the art director until her graduation in December, won second place in best advertisement for an advertisement she built for Interstate Blood & Plasma.
Current editor in chief Nicolas LaMorte took third place in editorial writing, while photographer Evan Halpop earned a third-place award in photography for a photograph he took of the WolfPack softball team.
Finally, former news editor Marissa Comeau-Kerege, now a journalism student at the University of Minnesota, earned an honorable mention in news reporting for an article about crosswalk safety.
The Clarion competed in Group B, which included all student newspapers in the state that publish weekly or less frequently.
While at the convention, the Clarion staff got a chance to meet up with different school papers from around the state. Also there where reporters and editors from the Wisconsin State Journal, the Capitol Times and other newspapers from around the state.
Workshops were available with helpful tips about reporting and editing though out the day. There was also job fair during the event.
The Clarion staff got a chance to network and to check out future jobs or internships available.