BCycle rolls to success in first year on campus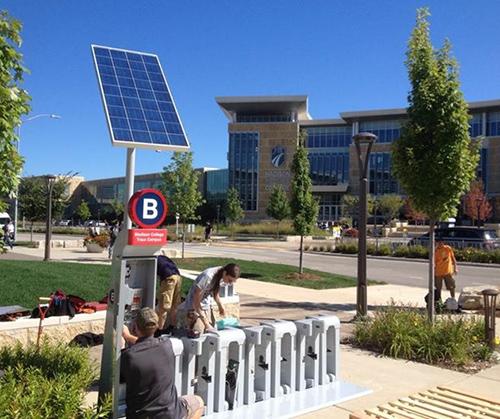 A new BCycle station was only at Madison College for a short three-months in the fall, but the student group that helped bring it here saw enough in that time period to anticipate continued success.
The BCycle bike share network launched a 14 dock, solar-powered bike station on campus back in September with positive feedback. BCycle is a bike sharing program that allows you to jump on a bike, swipe your membership card, and get where you are going.
Madison College's Student Senate led the effort to bring BCycle to Madison College, securing funding to build the station and pay ongoing maintenance fees.
After seeing how things went in the fall semester, Student Senate advisor Jackie Dahlke said "I'm excited about the opportunities ahead."
From just three months, 360 free memberships were issued at Madison College, which accounts for 15 percent of the total new BCycle memberships in the Madison area last year.
In 2015, 199 trips originated to and from the Truax station. Citywide, Madison has reached more than 100,000 rides in the last two and half years.
Future plans for BCycle and the Truax campus include trying to get business partners to put in more stations such as locations at the Mallards Stadium, Covance, East Town Mall and Northport Drive shopping centers. This will help students have more access to the area.
As for now, Madison College is the farthest North and East station in Madison.
For those that are looking to get a membership, the newly discounted membership rate is only $20 annually for Madison College students. If your not looking for a year-long commitment, monthly passes and daily passes are available at a discounted rate. Service starts March 1 for the 2016 season.