Madison College marks Court Reporting and Captioning Week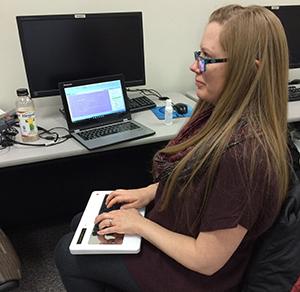 Lisa Hubacher, Lee Carey and Yvonne Meichtry want you to be as excited about Feb. 14-20 as they are. It's National Court Reporting and Captioning week and as Madison College's court reporting faculty, they're ready to tell you all about why you should be, too.
'We are routinely listed in Forbes Magazine as surprising careers that can make six figures." Hubacher said in a recent interview.
Six figures sounds great, but what is court reporting exactly and how does it earn so much?
A court reporter can actually be many things, but most likely, and most notably, they're seen in the courtroom.
"Our job in the courtroom is record everything that is being spoken and thereby guard everyone's liberty," said Hubacher in a recent interview, "especially in cases where your life literally is hanging in the balance."
It's a job that carries a lot of responsibility, but Madison College's Court Reporting program has got you covered.
Through six semesters of intense training that takes place even over summers, they'll give you all the tools you need to be successful as a court reporter. From shorthand theory, punctuation and grammar to business law and other legal terminology.
Court reporters do more than actual court reporting, however. They are also responsible for most of the closed captioning you see on television. Some work from home.
Court reporters also help deaf students at school by sitting in class with them transcribing the entire lesson.
Court reporting is a growing field with job security.
"We've had 100 percent job placement and right now with projected retirement nationally, over 5,000 jobs are available." said Carey.
Plus the job is interesting. Between the courtroom, television, classrooms, depositions, and so on, you're learning something new every single day.
"While the writing is the same, I've never written the same thing twice." Carey noted. "TV is always different. You could be in the middle of a TV show and there's breaking news of a disaster and all of a sudden you're doing something completely different."
Starting salaries for court reporting average at $45,000 and can reach over $100,000. But getting to that point takes time, dedication and practice, lots and lots of practice. People best suited for the program are going to have to be tough in spirit.
"Anybody who is willing to spend time getting killed, until they perfect something and before they can move to the next level, that's exactly what this training is like," Hubacher said.
Court reporting is also perfect for those who have a knack for music.
"It's not like a Qwerty keyboard where you're doing finger-by-finger, you're coming down hitting multiple keys at a time. It's very similar to playing piano chords, or clarinet, or any instrument has that multiple fingering," explained Carey.
Hannah Tyler, 27, is in her tenth semester of court reporting. She was a CNA who shadowed a court reporter and decided to make the career switch. The course work has been challenging for her, but she presses on.
"I've gotten this far and I'm determined to finish," Tyler said with a smile. "I like the feeling of passing a speed."
To graduate students must be able to type faster than 225 words per minute. That's fast enough to cover court testimony. Doing this requires the self-discipline of practicing hours every single day.
"That's kind of what keeps me going, is trying to get to the finish line," said Tyler.
The program at Madison College is a recent recipient of $550,000 from the Fund for the Improvement of Postsecondary Education (FIPSE) which gives students $500 to help pay for the stenograph machine and corresponding software. Also, students can receive up to $1,500 through the WorkSmart Network.
While most students are probably coming down off of a hopelessly romantic Valentines Day weekend, the students and faculty of the court reporting program are hoping you'll swing by their table in the cafeteria on Thursday, Feb. 18 from 11 a.m. to 2 p.m., or their open house in room D3622 at Truax campus.
You never know. There might be a bright and exciting future in it for you.