The Clarion wins Best of Show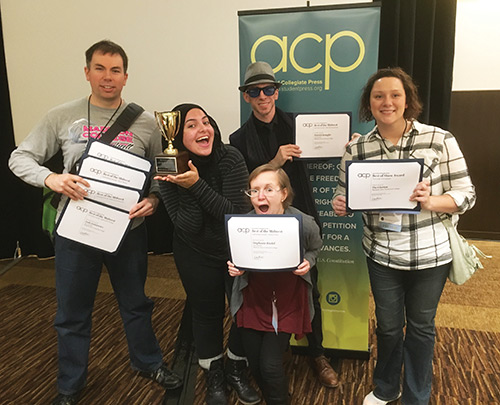 Hang on for a minute...we're trying to find some more stories you might like.
The Clarion won eight best of show awards at the Associated Collegiate Press Best of the Midwest college media convention in Minneapolis on Jan. 31.
The newspaper took first place general excellence for two-year college newspapers and third place general excellence in web sites for schools with enrollment above 10,000.
Managing editor Josh Zytkiewicz won four individual awards, while opinion editor Patrick Kempfer and staff member Stephanie Reidel also received individual recognition.
In the individual award categories, The Clarion staff was competing against all students at the convention.
Zytkiewicz received a fourth-place award for best of show in the multimedia package competition, for a video and photos he made about the production of "Romeo and Juliet" last spring.
He earned a fifth-place best of show award in the editorial and commentary category, a sixth-place award in photography and a ninth-place award in sports reporting.
Kempfer received a third-place best of show award in the editorial and commentary category, while Reidel placed fifth in the sports reporting competition.
Five members of The Clarion staff attended the convention that ran from Jan. 29-31. They joined hundreds of college media staff members from across the Midwest at the event.