West Campus plans
Madison College seeks smaller space to lease on city's West side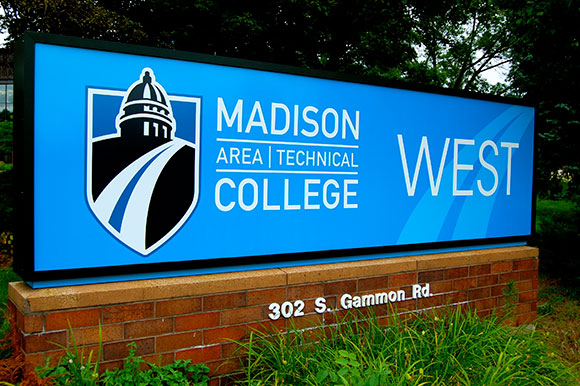 Welcome to the new. Goodbye to the old.
In June 2016, Madison College's West Campus will be shut down. The building located at 302 S. Gammon Road is not actually owned by Madison College, rather the college is letting the lease run out.
Still, the college will likely continue to have a presence on Madison's west side.
Acting on the recommendation of the West Campus Transition Team, the college is now seeking proposals to lease up to 12,000 square feet of space on the city's west side.
Dr. Keith Cornille, the senior vice president of student development, said college officials looked at the substantial cost for the current West Campus building, which is about $1.6 million per year, and asked themselves, "will the campus meet the need that it was designed for?"
Cornille said the West Campus had been renovated to fit the needs of the criminal justice program. Now, however the program has transitioned to other facilities, leaving a good portion of the 100,00 square foot space unoccupied and unnecessary.
Once the college made that decision, a transition team was put together, with Janice Mettauer as head of the team.
The team assessed the needs the West Campus fills for the community, using two surveys to review the programs offered and enrollment demographics to help assess the situation.
The data lead them to suggest that the college maintain a presence on the west side of Madison because around 2,800 students who are enrolled in continuing education courses at West would likely not travel to other parts Madison for the same courses.
The Request for Proposal (RFP) that was presented by the transition team states that the new building should not exceed 12,000 squared feet, with six regular classrooms, two computer labs (one Mac, one PC), shared art/fitness room, lounge, office space, kitchen classroom with a sink, and general storage space.
The new location is expected to cost $300,000 each year.
Many of the courses are offered at the current West Campus will be transferred to other Madison College facilities.
The new west location will mainly house evening classes, and continuing education classes, with limited general degree classes. So degree students will likely need to commute to another campus.
Cornille said that the biggest deciding factor for choosing to open a new west location was "how we serve all areas of our district and how we continue to do that."