Students use winter break to help animals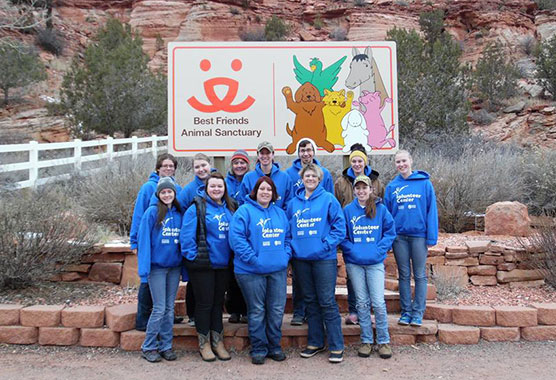 Madison College student Kim Michal is among those who recently returned from the alternative winter break co-hosted by the Madison College Volunteer Center. The trip was to the Best Friends Animal Sanctuary in southern Utah.
After a flight to Las Vegas, where the group visited Treasure Island and took a boat ride, they traveled south to the scenic home of several National Parks, located near the sanctuary. Michal described the parks as very green. However, most of it was covered by snow.
As part of their mission, most of the students worked in the rabbit shelter, cleaning cages. However, Michal, who was allergic to rabbits, helped out in the office with staff cleaning out files and untangling whistles at the Dog Headquarters. The staff also had her shovel some snow.
Michal describes the sanctuary as a far cry from typical shelters.
"It was the epitome of positivity," she said, explaining that you could feel the care. Each animal received special attention. The proof was Rhonda, a three-legged labradoodle mix, who lost her leg in a dogfight.
Even though she had just been through surgery, Rhonda was happy to be around people, both the volunteers and the trainers. Each student had a trainer accompany them to insure that both the animals and the volunteers were safe and enjoyed their time together.
When asked what was most important for her, Clarissa Sheldon, the faculty member who accompanied the group said, "For me, [it was] watching a large group come to realize that volunteering often puts us outside of our comfort zones and by this we grow."
Lastly, Michal describes the accommodations, located in a huge house with plenty of sleeping spaces. Just like the animals, they were well taken care of. Michal said she would definitely volunteer there again.