Culinary Program helps food pantry with annual Thanksgiving meal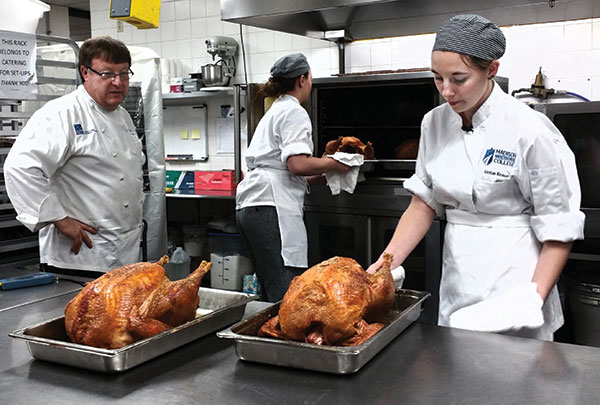 A decade ago, former Madison College instructor Andy Czernak approached John Johnson, Madison College culinary instructor of 18 years, and told him that he and his wife Jenna were starting up a food pantry.
Today, the River Food Pantry is the largest food pantry in all of Dane County, caring for 600 families a week.
The Madison College Culinary Program coordinated with the pantry for their annual Thanksgiving meal, cooking 40 large turkeys.
"Every year, we have a Thanksgiving dinner the Friday before Thanksgiving," Czerkas explained. The dinner was this past Friday, Nov. 20, with about 400 in attendance. "We also give away 800 turkeys and 100 hams for families to take home."
"Once the pantry was running, he (Czerkas) wanted to do a Thanksgiving thing for community members," Johnson explained. "That was 8 years ago. Ever since then, we've (Madison College Culinary Program) always cooked their turkeys for them every Thanksgiving and Christmas.
Anytime he has big bulky stuff that needs to be cooked, we coordinate it and cook it."
The River Food Pantry cares for 3,000 runaway minors a month, Johnson explained. "A lot of times they don't give their names, but they can find clothing and food."
"Our job at the college is community development and community interaction. People come here to learn a trade or skillset, but the college's focus is about the needs of the community," Johnson added.
Located off of Northport Drive and Packers Avenue, near low-income neighborhoods, the food pantry is a white warehouse that Johnson says, "no one would ever know about it unless they knew what it was."
"It started with a group from our church in Northport, for 6 years we learned that food was a big problem and there weren't any good food pantries at all. We set up emergency food shelters but it was inadequate in the quality of the food that was there and the amount of people that could help… now we serve over 600 families a week, 37-40,000 pounds of food a week."
Czerkas mentioned that the River Food Pantry always welcomes student volunteers as well as welcomes any students at MATC in need of help with food or clothing.