Alternative winter breaks give students opportunity to help communities in need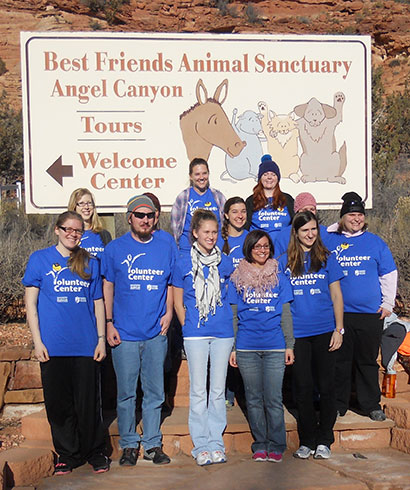 Mary J. Nastri, Staff Writer
November 29, 2015
Madison College is offering an upcoming Alternative Winter Break from Jan. 3 – Jan 9. Typically, alternative breaks allow students, who are interested in being a part of social change, an opportunity to work with people in communities most in need. Last year's trip was to Gleaners Food Bank in Indianapolis.
This year the group will be traveling to the Best Friends Animal Sanctuary in Kanab, Utah. The cost of the trip is $500, which includes flight costs and accommodations. Students are to bring pocket money to cover some meals. You'll fly into Las Vegas airport, then, take a three hour drive to southern Utah – an area of Utah best known for it's National Park system.
The shelter is located in what is called Angel Canyon. This area was inhabited by ancient Southwestern people and is considered to be a healing place for animals and humans.
This alternative winter break is brought to you through a partnership of The Volunteer Center and Student Life.
Jennifer Edens, Senior Program Coordinator at Student Life, urges interested students to submit their initial $100 deposit, with their online application. The remainder $400 is due Dec. 14.
Edens has already received 17 applications. You can find the application at http://madisoncollege.edu/service-trip-app.
There are a number of questions on the application, and Edens said students with prior volunteer experience are stronger candidates for the trip. Some funding may be available. Dr. Clarissa Sheldon will be the faculty member accompanying the group.
The sanctuary was started in the 1980s and now owns almost 3,700 acres of land and leases an additional 17,000 acres of state and federal land. They are the world leader of no-kill shelter policies. For over 30 years they've been involved in rescuing abandoned and abused animals, in addition to advocating for these companion animals, and they've succeeded in reducing kill rates by 76 percent in many cities across the nation.
Other companies such as http://www.statravel.com and http://www.unitedplanet.org offer similar projects, both domestic and abroad, especially, if you have your own group of 10-12 friends.
Plans for the Madison College 2016 Alternative Spring Break are in the works. Edens said one trip will be to Heifer International in Little Rock, Ark., and another to New Jersey. Details for both trips are still being finalized.