Global Studies Seminar in Northern Ireland
The theme of this year's trip is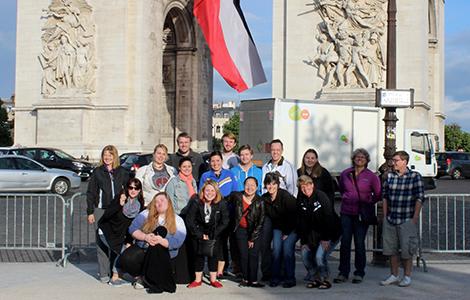 Travel isn't just about the places that you go; it's about the experiences that are involved. Madison College has a Global Studies Seminar that incorporates international travel with a learning program. Students become more knowledgeable and conscientious of people around them and cultural differences.
The Global Studies Seminar is headed to Northern Ireland to one of our sister colleges in Enniskillen. This program is open to everybody on campus that has 12 credits or more.
"They have to meet minimum standards, but they want it to be open to anybody who can participate in it and apply the academic theme to their specific interest or area of study." Holly Mercier, a faculty teacher here at the college, is in charge of this year's Global Study Abroad Seminar to Ireland.
This year's theme is Customer Service Innovation.
"We try to pick business related themes that is broad enough…in a variety of situations so they can be relatable to any course of study," Mercier
If students are interested in the seminar, there is a 3-credit course that is associated with the program. You can not go on the trip without the course. Some of the work takes place in country.
"The whole travel is a learning experience. As instructors, were going to be trying to leverage that as much as we can and try to capture those teachable moments whenever we can," she said.
Nicole Augustynowicz is a student here at Madison College that has completed two trips to Germany through the program. She notes, "Programs like the Global Studies Seminar are absolutely valuable to real world businesses and life experiences. It builds your confidence; you sort of break out of your mold and become more willing to take on challenging international aspects that you might come across in your job, because you have real experience behind you."
Mercier goes on to say that the reason why she suggests that students take this seminar is because it is a great opportunity to travel internationally and to work with other students across cultures. She notes that the culture divide is not a gaping wide canyon but it is enough to bring into question your own world view and helps you understand someone else's and that is a valuable skill. The program wants students to feel confident about travel and that they enjoy seeing the world and they want to do that. If businesses want you to travel for work, you would confident for that.
To contact Holly Mercier about joining this year's program to Ireland in March, please call immediately at 246-6558 or email her at [email protected] MadisonCollege.edu. The deadline is this week.