Daniels puts students before any recognition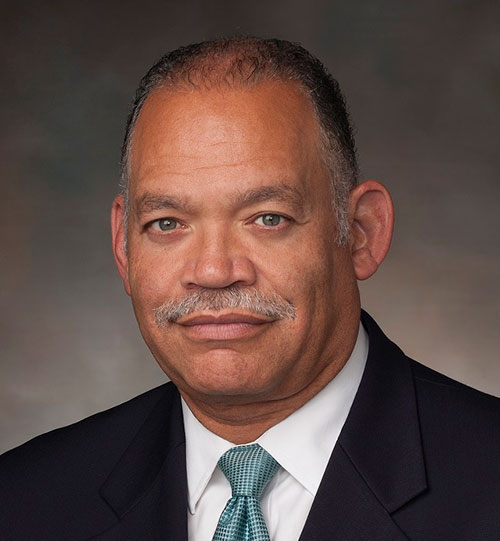 Ana Bon, Staff Writer
November 10, 2015
Madison College president since August 2013, Dr. Jack E. Daniels III has twice been recognized as one of the most influential people in Wisconsin.
This past summer, InBusiness Magazine named him one of the 25 most influential people in the Madison Area.
More recently, Madison365 selected him as one of the 28 most influential African-Americans in Wisconsin.
When asked about the recognition, Dr. Daniels preferred to speak about the college and how it supports students. "It's an honor, but what we do is about what the entire college does and what the team does and it's not just about me," Dr. Daniels said.
For him, if the whole college doesn't get recognized, neither does he.
"People get a lot of plaques and honors, and they load them up and they put them all over their walls," Dr. Daniels said. "… You always get a plaque for the past, you don't ever get a plaque for the present, that's past history."
Before the interview, Dr. Daniels walked out of his office to greet me personally, and invited me in. I walked in thinking of writing a profile on him and the recognitions he has earned. But that wasn't the case. He never hesitated to direct his answers away from himself.
For Dr. Daniels, creating a path for student success plays a great part in his mission. He included students and the importance of the college in response to nearly all questions.
"When I go meet with the community agency, it's taking what I know we can do with me, to put it out there. I advocate for the institution. Where as I advocate, I know we can deliver. And it's the WE can deliver," said Dr. Daniels, emphasizing 'we'.
Dr. Daniels said it was nice to have such recognitions, but it does not mean much to him if the college is lacking credit. It's what he does for and with the college that truly matters. And if that is not being emphasized, he doesn't see much of the point.
"Here you got this paper, where in this article does it talk about what we do?" said Dr. Daniels, holding the news article that recognized him as one of the most influential people in the state.
"I'd rather have an article that talks about what we do, because I want students to know that we are here for your goals and your aspirations, how we can enhance them," said Dr. Daniels. "But I also want the public to know what we do for this community in terms of what our mission is, what our vision is."
"What I want students to really know is that we are working for them," he said. "We are here to really support and help students along the way."
One of the publications recognizing Dr. Daniels described him as a disparity fighter. He explained it with more detail.
"I think we play a very important role in assisting the community to minimize those disparities," he said. "If we talk about education, what do we provide? What kind of training do we provide? How do we open up access to students who may not have had access in the past?"
Dr. Daniels kept emphasizing the importance of making sure students have an approachable path to a good education. It's part of his mission as the college president.
"We develop many bridge programs. So students who may not have had cost level skills to enter, now have these bridge programs," said Dr. Daniels. "There is a pathway for them to come in."
When asked about his stay with the college, Dr. Daniels responded with a smile.
"I've enjoyed it," he said. "We have a great faculty."
Dr. Daniels remembered his years as a faculty member. He was a psychology teacher and admits it was one of the best things that ever happened to him.
"As a faculty, you get to see the students growth," and that's what he cherished from being a teacher. "Being president is second best," he added.
No matter what issues have to be dealt with, or decision needs to be made, Dr. Daniels has to think of students and how it will affect them. "I'm proud of the fact of not moving away from who our primary concern is, which is students," he said.
Dr. Daniels is driven by equity, inclusion and student success.
"I think that's an important element that we can't lose," he said. "That drives me each and every day."